Posted by Mickey B.
If you have dull or frizzy hair, you may have tried many things to help improve the health of your hair. One popular option for taming frizz is a Brazilian Blowout. This popular hair solution can make everyday styling and care easy. Here is everything you need to know about a Brazilian Blowout and how it can make you look your best. 
How the Brazilian Blowout Works
Brazilian Blowout is an amino acid-based formula that creates a protective layer around each hair strand. This protective layer helps to seal the cuticle and diminish frizz. The formula originated in Brazil and contains ingredients native to that country.
After the amino acid formula is applied, the hair is blown dry and straightened. The formula is then rinsed out, and the hair is blown dry again. The heat from the blow dryer activates the chemicals to bond to the hair shaft. A professional hairstylist can use a flat iron to straighten your hair to your preference. The results can last up to four months. You will notice it is time for a touchup when you start to see curls forming around your hairline.
The Brazilian Blowout Difference
With a Brazilian Blowout, you can wash and style your hair as usual following the service. In contrast, keratin processes may require you to wait several days before you resume regular haircare routines. After that, you can wear your hair curly or straight as you desire. As you continue to get Brazilian Blowouts over time you can achieve healthier hair while maintaining long-lasting results.
Benefits of A Brazilian Blowout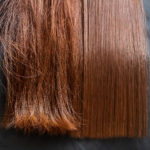 One of the most popular benefits of a Brazilian Blowout is to save you time on your morning routine. Blow drying can take far less time, and you can reduce the headaches of painful tangles. In addition, the amino acid formula can improve the health of colored hair, and your hair will maintain its natural volume.
Is a Brazilian Blowout Safe?
Brazilian Blowout is safe for most hair types. However, if you have textured hair, you may want to be cautious with how much heat is applied to avoid potential damage. Individuals who plan to color their hair may schedule a Brazilian Blowout simultaneously. Doing so can make your hair color appear brighter. Avoid using shampoos that contain sulfates and chlorine to help the results last longer.
As with any product that contains chemicals, it is highly recommended to have an experienced stylist perform the application process to help prevent any accidental damage or risks. Consult your hairstylist before getting a Brazilian Blowout if you have any questions or concerns.
Interested in a Brazilian Blowout?
An experienced hairstylist can help you determine if a Brazilian Blowout is right for you. This hair therapy can give you the healthy hair you have always wanted, whether you have fine or thick hair.
Enjoy your hair,
Mickey
---
The experienced hair stylists at Michael Anthony Salon can assess your hair at your next appointment and recommend the best options to fit your aesthetic needs. Schedule an appointment today.