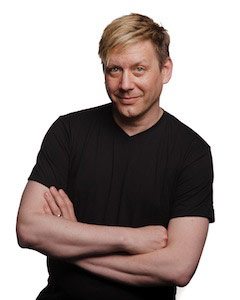 Stylist Mickey Bolek welcomes you to Michael Anthony Salon on Capitol Hill.
Our Mission:
At Michael Anthony Salon, we strive to provide superior salon services in a friendly and relaxing environment. We offer a full range of hair services as well as facial waxing services to a diverse clientele. We specialize in hair color and cuts that fit each client's personal lifestyle and taste.
While at the salon, clients enjoy a beautiful view of Eastern Market while sipping complimentary beverages and sharing the latest happenings on the Hill. Led by the award-winning hairstylist, Mickey Bolek, the Michael Anthony Salon stylists – Da Vojinovic,  Collin Sims,  Kendra Vasquez , and Gerald Armstrong – look forward to seeing you for your next hair appointment. You will not be disappointed!
"Every visit to Michael Anthony salon is lovely – from the moment you walk in the door." –  Theresa
And the owner, Mickey – aka Michael Anthony – is not just the best hair stylist in Capitol Hill; he's a man who never forgot his childhood dream, worked hard to make it come true and is now a true master of both scissors and blades – figure skating blades. You can read about it in The Washington Post or ask Mickey to tell you all about it when you stop in!
Thankful for Clients Like This
"This Thanksgiving, I am thankful for Mickey. I have followed him over the past 23 years as he worked his way up the career ladder. This is my fourth salon with him and I have never been sorry.

A few weeks ago, I met a hair stylist who said my cut was really perfect – better than anything she had ever seen. I proudly told her that I go to the Michael Anthony salon.
When my mother was in the early stages of dementia I brought her to a salon he was managing. Even though she needed a lot of help, the staff treated her kindly and respectfully. She was very pleased and also was glad to be in a salon that catered to the hair of people of all races. She felt very welcomed. That afternoon has become a memory that I will always treasure.
In addition to excellent hair care, I have received tons of emotional support from Mickey and his crew over the years. Going there is like taking a vacation from Life for a few hours.

I highly recommend them." – Deb
Scroll down to read what else our clients have to say!…
Location:
661 C Street, SE, Second Floor
Washington, DC 20003
Located in the heart of Capitol Hill across from the historic Eastern Market on C Street, SE near 7th Street, SE. The salon is one block from Pennsylvania Avenue, SE, and the Eastern Market Metro Station (orange, blue, and silver lines).
Hours:
Michael Anthony Salon is now open seven days a week! See our Hours of Operation for details.
Credit Cards:
We gladly accept American Express, Discover, Mastercard, and Visa.
Reviews: