Posted by Mickey B.
Wouldn't it be a boring world if everyone's hair "expressed itself" in the same way?
Managing different kinds of hair can be a lot like taking care of children with different personalities. You might have your mild and tame personalities and then you have the unruly and rebellious. Sound familiar?  Different kinds of hair have different needs and require individualized care that caters to each "personality" (or hair) type.
What's your hair personality? Below are a few examples of some of the more common types along with hair care tips for blow drying, styling and managing each type.
Unruly & Wild Hair
Hair that seems out of control might be the most "troublesome" of the hair personality types but with a little extra attention, even unruly hair can become more manageable. Are your strands always trying to fly away? Use a light oil, serum or smoothing lotion for immediate control over fly-away hair and frizzies. When blow drying unruly hair, use a product from Michael Anthony Salon DC's Awapuhi Wild Ginger line and watch boing-y hair relax. You might even invoke your inner Hollywood diva and tie your hair up at night with a silk scarf to reduce breakage and split ends.
Best styles for your "wild child?" Buns, upsweeps, topknots and braids with a spritz of firm holding spray. If your hair is thick and bushy, embrace the trendiness of your hair "personality" by adding a little moisture and running wild and free.
Stringy, Straight & Simple
This type can be very low maintenance but still requires a little TLC to bring out volume. Drying hair can be a cinch, but be careful not to overexpose to heat. Using a thermal protectant product is highly recommended on all hair types to avoid heat damage and retain hair's natural moisture. Don't saturate with too much product because it will weigh the hair down.
Best styles? Bob cuts, short cropped looks, tailored bangs, and creative ponytails. If you're tired of "flat-lining" with stringy hair, set with large rollers or use a curling iron to add a few waves.
Curly and Carefree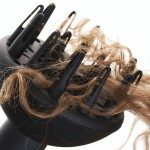 Naturally curly hair dries best without adding any additional heat; but if you must use any type of styling tool, a diffuser is definitely a great investment for this hair personality. Using a diffuser will help dry the hair without disrupting those curls. As with most hair personalities, it is important to moisturize your curly hair. Just be sure not to use heavy products that will weigh it down. Michael Anthony Salon DC's Curls line has just what your curly head needs.
Best styles? Girls with curls have lots of great style options but the one we like best? Au naturel! Free and flowing curls – with a little bit of healthy guidance and love – go a long way.
Define your own hair personality and play it up to your advantage, incorporating hairstyles that are flirty, fun and fabulous. Still not sure? Talk with your stylist and we'll help you come up with some great "parenting" strategies.
Enjoy your hair!
Mickey