Posted by Mickey B.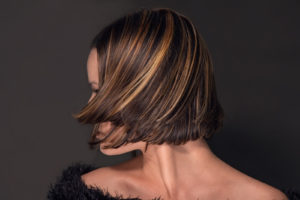 Are you looking for a way to update your look? Highlights are fantastic choices to enhance your appearance. No matter what hair color you have, there is a wide selection of highlights to create the hairstyle of your dreams. With this coloring technique, you can create a hairstyle that is as unique as you are.


What are Highlights?
Highlights are simply strands of hair that are lighter than your natural color. These lighter strands help enhance your hair by adding dimension and can help brighten your complexion. Any color can be used for highlights if it is lighter than your natural color. In addition, highlights can make the hair appear fuller for people who have thin or fine hair.
Highlights are versatile for any hairstyle. There are endless options to choose from to create subtle or dramatic looks. However, to achieve the best results, highlights should be applied by a licensed professional.
Application Techniques for Highlights
There are two different techniques used to apply highlights. Traditional highlights are applied using foil to create patterns or shapes with lighter strands throughout naturally darker hair. Contrast for these highlights can be bold or soft. Balayage hand-paints random pieces of hair in small or large strips. Touch-ups are not needed as often for balayage as required for foil highlights.
You can also choose between partial or full highlights. What is the difference? Partial highlights are done through the front and sides – think face-framing. Full highlights are done throughout the hair, including the back, and underneath parts.
Your hairstylist can recommend the best technique for your hair and a style that suits your personality. When you come in for color the first time or a change, you and your stylist can discuss your hair history and goals as well as examine the condition of your hair. This will help the stylist recommend the best color plan to help you look and feel your best.
How to Prepare Your Hair for Highlights
If you are considering highlights for the first time, it would be best to talk it over with your stylist before scheduling an appointment for highlights. It may be helpful to bring photos of the highlights you desire to share with the stylist while you talk it over, although every head of hair is different and not all photographs can be exactly duplicated. Your stylist will know!
If you have recently colored, chemically relaxed or straightened your hair, you may need to wait a period of time before getting highlights. Before heading to the salon for highlights, you will want to ensure your hair is clean and free from any product residue. Product build-up and excess oils can affect how the coloring interacts with your hair strands.
Enhance Your Hairstyle with Highlights
If you are looking for a great way to enhance your hairstyle, highlights are an ideal choice. The color specialists at Michael Anthony Salon can recommend the best highlights to help you feel more self-confident about your appearance. With over 25 years of experience, you can trust our stylists to create your dream hairstyle. Schedule an appointment today.
Enjoy your hair,
Mickey