Posted by Mickey B.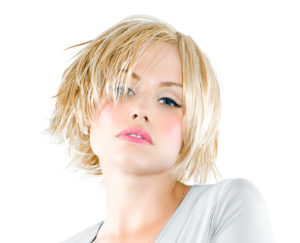 Are you looking to change your hair color in 2020? It's a new year and a new decade, so along with the long list of resolutions, you may be looking to change up your look. If you want something new and exciting but aren't quite sure what's popular or plausible, look no further. Listed below are four ways to change up your hair color for the New Year. These are just a few suggestions and your own stylist would love to have that conversation with you!
Warm Blonde
Last year saw a trend of going silver-blonde as a way to work with natural grey or silvering transitions. This year those cooler, silvery, and ashy blondes are on the way out and warmer blondes, vanilla, and champagne (yummy, right?) are in. They take less time to achieve and also lower the risk of over-processing the hair. We love this!
Caramel Highlights
Caramel highlights are the perfect thing to give your brunette hair a nice pop of color in the winter. Putting a warm brunette color on a darker head of hair lightens up the color and adds dimension to the cut and color. Pops of caramel color artfully painted into deep brunette hair aren't necessarily as bold a statement as going any shade of blonde or as big of a commitment. Instead, caramel highlights are a low-key and tasteful way to turn heads and give your color a playful variance heading into the New Year.
Dip Dye Ends
Everyone, clients and stylists alike, have been excited that this trend is becoming popular. Did you ever want to color your hair as a child to live out that punk rocker fantasy? If you haven't tried that yet, maybe 2020 will be your year. A dark or silvery color up top and a pop of color at the bottom of your hair is an easy way to add something bold and fun to start the new decade. Instead of going with a single shade all over, coloring the ends is a quick, easy, low-commitment way to embrace the New Year with a pop of color and some guaranteed attention.
Shadow Roots
A shadow root is perfect for the hair client who doesn't mind waiting a bit in between color touch-ups. If you're already inclined to let your roots grow a bit longer than you should, the shadow root hair color trend is perfect for you. We also call this Ombre.  Instead of coloring your roots to match the rest of your hair color, the roots are made a darker color than the rest of your hair. The contrast between your roots and the rest of your hair color creates a dramatic look. This easier-to-manage hairstyle is here for 2020.
Enjoy your hair!
Mickey