Posted by Mickey B.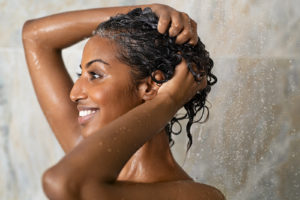 Caring for your hair between appointments is just as important as getting a great haircut. The health and beauty industry is forever changing, just like many other industries. New tools, trends, techniques, and products are hitting the market continually. How, then, do you choose the right products to recreate and maintain your hair at home? Here are a few helpful tips on what to look for to help you decide.
When picking out what products to purchase, there are many choices to make – purchasing online, at your local salon, or in the beauty aisle at your local grocery or drugstore. Oftentimes people think they might be saving a few dollars by buying online or when out shopping for groceries, but the savings aren't always worth it.
Better Ingredients
Let's talk ingredients. Professional, salon-grade hair care products have better ingredients than much of what you will find at the drugstore. Rather than having fillers that dilute the products, professional products have a higher concentration of gentle cleansers. This means a little will last much longer than the same amount of what you find at the drugstore. While professional-grade products you find in a salon are infused with good stuff like vitamins and proteins to restore and maintain your hair's health, many drugstore hair care products consist of mostly water mixed with chemicals and fillers that can damage your hair.
Examples of fillers found in drugstore products include excessive amounts of wax as a conditioning agent, creating a buildup that can make your hair dry and brittle. Many store-bought shampoos and conditioners contain excessive amounts of ammonium, silicone, or sodium laureth sulfate, which can, over time, damage your scalp and hair, as well as making your hair dull and lifeless.
Bottom line, with salon products, you can use less with better ingredients, saving money in the long-term, all with a better result.
Environmental Health
Investing in high-quality home hair care products can help reduce your carbon footprint. Store-bought products are used up faster, which creates more landfill waste. Many professional products use environmentally-friendly ingredients and packaging; some power their manufacturing facilities with solar and wind energy. By investing in salon-grade hair care products, you can make a positive impact on the environment.
Backed by Extensive Research
With drugstore products, there are no guarantees that they will work for your hair type. There really is no hair product that is optimal for everyone. High-quality hair care products are backed by extensive research, and each one is designed for a specific purpose to work with certain hair types and textures.  If you get what is right for you, rather than something that is trying to be everything for everyone, you won't be wasting your money on products that are useless or damaging to your hair.
Your stylist has years of experience and knowledge to help you select the best products for your hair type. When you go to the grocery store, you're guessing what may or may not work for you. Discuss hair care products with your stylist. They can help you recreate and maintain your new look at home.
But What About Those "Professional" Products at the Drugstore or Online?
With all that said, not everything in a drugstore beauty aisle is bad, but it is still a gamble. You may even see some seemingly professional-grade products at the grocery store or online. But buyer beware – there are lots of counterfeit products circulating. Then, some product lines using the same or similar name where the version available in grocery stores is of a lesser quality than what is found in a hair salon.
As to online shopping, be very careful who you are buying the products from. If you must, purchase directly through the manufacturer (if possible), an official distributor, or a trusted hair salon. Your best option is still to purchase at your local hair salon based on the recommendation of the stylist who knows your hair – not only are you sure to get the real stuff of what works best for your hair, you are also supporting a local brick-and-mortar business in your community.
Looking for High-Quality Hair Care Products?
The hair care products you use can make a significant difference in how your hair looks and feels. There are many hair care tools and products available on the market. It can be overwhelming to figure out what's best. That's why you should trust a professional opinion. At Michael Anthony Salon, we sell only the best hair care styling, shampoo, and conditioning products for you to use at home. They make great gifts, too!
Enjoy your hair,
Mickey
Call or email us if you need help selecting products and picking them up curbside. We're here to help! And if we don't carry a certain product, we can always special order it or recommend where to purchase it.