Posted by Mickey B.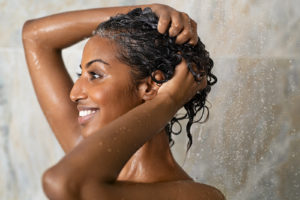 Caring for your hair between appointments is just as important as getting a great haircut. The health and beauty industry is forever changing, just like many other industries. New tools, trends, techniques, and products are hitting the market continually. How, then, do you choose the right products to recreate and maintain your hair at home? Here are a few helpful tips on what to look for to help you decide.
Better Ingredients
Professional, salon-grade hair care products have better ingredients than those you find at the drugstore. Professional products have a higher concentration of gentle cleansers. They're infused with vitamins and proteins to restore and maintain the health of your hair. Drugstore hair care products consist of mostly water mixed with chemicals and fillers that can damage your hair. With salon products, you can use less, save money, and get a better result.
Drugstore products use wax as a conditioning agent. This creates buildup that can make your hair dry and brittle. Many store-bought shampoos and conditioners contain a dangerous lathering agent known as ammonium or sodium laureth sulfate. Over time, this agent can damage your scalp and hair. Silicone additives in store-bought hair care products can make your hair dull and lifeless over time.
Environmental Health
Investing in high-quality home hair care products can help reduce your carbon footprint. Store-bought products can be used up faster, which creates more landfill waste. Many professional products use environmentally-friendly ingredients and packaging; some power their manufacturing facilities with solar and wind energy. By investing in salon-grade hair care products, you can make a positive impact on the environment.
Backed by Extensive Research
With drugstore products, there are no guarantees that they will work for your hair type. High-quality hair care products are backed by extensive research and designed to specifically work with various hair types and textures. This makes it less likely you'll be wasting your money on products that are useless or damaging to your hair.
Your stylist has years of experience and knowledge to help you select the best products for your hair type. When you go to the store, you're making a guess at what may or may not work for you. Discuss hair care products with your stylist. They can help you recreate and maintain your new look at home.
Looking for High-Quality Hair Care Products?
The hair care products you use can make a significant difference in how your hair looks and feels. There are many hair care tools and products available on the market. It can be overwhelming to figure out what's best. That's why you should trust a professional opinion. At Michael Anthony Salon, we sell only the best hair care styling, shampoo, and conditioning products for you to use at home. They make great gifts, too!
Enjoy your hair,
Mickey
Call or email us if you need help selecting products and picking them up curbside. We're here to help!