Posted by Mickey B.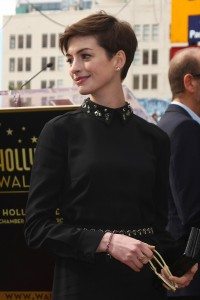 Spring has sprung and now you're wondering, "Should I cut my hair?" Are you contemplating a power pixie haircut or other trendy short hair look, but still on the fence about trying a whole new look?
Cutting the hair can actually be quite fun and flirty! Many clients ask for "Sharon Stone hair" or "Judy Dench hair" and more recently, "Anne Hathaway hair." There are oh-so-many inspiring celebrity looks today when it comes to short haircuts.
Here are just a few things to take into consideration when contemplating a new cut.
Hair Health
For those who have split ends, cutting it short will give you a fresh start. If you're worried about losing length, you should know that hair tends to look fuller and healthier once you trim away the damaged portion. When you hold on to limp, lifeless hair for the sake of maintaining length, you're not really doing your hair – or your overall look – any favors.
Hair Maintenance
For some, a short cut can be a no-fuss resolution to the "bad hair day blues." However, it is important to understand that it is still necessary to have some type of maintenance plan, even if it is just a 1-minute dab of a moisturizing product worked through the hair with your fingers. It is true that many shorter styles require a lot less product and less time primping in the mirror, but don't neglect your shorter lengths. Keeping ends trimmed, edges smoothed out and both hair and scalp moisturized are still basic necessities.
One Hair Size Doesn't Fit All

Not all short hairstyles complement all people. So when our clients come in and request a particular look or show us pictures of celebrities, we want to accommodate them – but we simply wouldn't be professionals if we didn't offer some insight into how celebrity stylists go about creating the perfect looks for their famous clients.
The most important thing to know is that they will always select a style that not only suits the celebrity's face shape and the size of her head, but also complements her overall frame, height and even weight. A good stylist (that would be any of our own "styling stars" here at Michael Anthony Salon) will give you celebrity service by making sure that the short hairstyle you take home is just right for your own features.
Still undecided? Talk it over with your stylist and ask him or her to offer suggestions to help you select a style.
Long, short or in-between…
Enjoy your hair!
Mickey