Posted by Mickey B.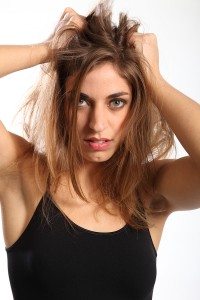 Okay, so I'm not really a "Doctor," but play along for a bit. It just so happens that lots (and lots) of people come to me with their bad-hair-heartaches and ask for my help. That's what we're here for so bring on your worst bad-hair-day issues and we'll help you turn them around.
As your stylists, we're here to give you solutions to any hair problem. Here are a few that we see and hear about almost daily…
Haircuts for Thin Hair
Thin hair can definitely feel like a downer, but there are ways to bring you and your fine, thin, or thinning hair back "up."
The right haircut is essential for thin hair. The classic bob with layers can turn hair that looks limp and thin into hair that has a lot more body and movement. When coupled with the right volumizing products, fullness and bounce can be restored in ways you never imagined.
It's also important to take a good, hard look at your diet. A lack of essential vitamins and nutrients can show up in hair's luster, texture, and body. Your hair is made of protein bonds, so proper nutrition is extremely important when it comes to beautiful, healthy hair.
Dry, Dull, and Damaged Hair
Damaged hair is usually the result of a chemical service gone wrong. Have you tried to color your hair at home and things just didn't turn out as the box claimed they would? Perhaps you had a frightful experience at the hands of a poorly-trained professional (not here, of course!). Learn your lesson and get thee to a highly-qualified professional as soon as possible!
Damaged hair needs to be babied and loved. It needs a chance to rest and relax – no more harsh chemical services that will strip it and leave it weak and fragile, just screaming NOT to be damaged further. Avoid the use of heat as much as possible to allow your hair to just "be." A deep conditioning treatment that restores moisture and protein to the hair will help put it on the right track back to a healthy state.
Hair Maintenance
Schedule regular maintenance trims with your stylist to nip split ends in the bud. Although fine, thin or damaged hair may leave you in the throes of love-hate with your hair, all is not lost! Hair is "alive"and therefore can be restored to a healthy and beautiful state. So can your relationship with it. All it takes is a little time and the right guidance.
Give us a call today so we can help!
Enjoy your hair!
Mickey