Posted by Mickey B.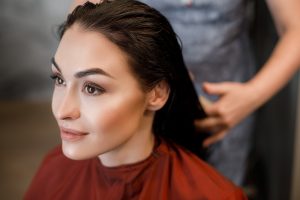 After being stuck indoors for so long, spring's arrival this year is especially welcome! As nature freshens up its look, you may be thinking of ways to freshen up your hairstyle to look your best. Here are five incredible hairstyles to spring forward in style this season. 
Go Bold with a Razor-Sharp Bob
Bob hairstyles are a popular way to spring forward in style. The razor-sharp bob hairstyle is ideal for those looking for a bold low maintenance style that is effortlessly chic. By thinning the ends you can create a sharper effect with more textured and feathered hair. It is ideal for those who have straight or slightly wavy hair. Try a medium razor cut hairstyle that incorporates multiple layers and long razor cut bangs for a bold look.
Frame Your Face with Layers This Spring
A face-framing layered hairstyle is a perfect choice if you want more texture and volume. What style is used to frame your face may depend on your particular face shape. For example, if you have a heart-shaped or oval face, you may want to add bangs to bring balance to your chin and cheekbones. Or if you have more square faces, you may want to request long wispy layers with side-swept bangs to complement your features.
Glam Up This Spring with Curls
With the quarantine and social distancing, you may not have gotten the chance to get dressed up for a night on the town. Once you feel safe to do so, you may be ready to look glamorous and spring forward in style. Curls can help you achieve a stunning look, especially when paired with beautiful hair accessories. Your fanciest face mask can add an element of mystique to your look!
Crimp it Up
Crimped hair, a popular trend in the 80s, is making a comeback. To achieve the look, you can use a traditional crimping tool or soften it up by using curling irons and straighteners. For a bold look, pull your hair back in a ponytail and only crimp the backside of your head. As you spring forward in style at social gatherings, crimp your hair and braid it while sprinkling in some glitter. Oooh, dazzle!
Shorten It Up with a Pixie
With warming temperatures, a pixie haircut can help you stay cool and spring forward in style at the same time. Many people opt for shorter hairdos to help keep their hair easy to care for and more manageable. Opt for a longer pixie at first if you have never tried this style before. Ask your stylist for ideas before chopping off your flowing locks. You can always shorten it later to fit your preferences.
Step Up This Spring with a Fresh New Hairstyle
Spring is the epitome of a fresh new start and looking forward to beautiful times ahead. There is no better time to shake off the at-home quarantine drab and spring forward in style. Our expert stylists at Michael Anthony Salon can help you discover how to look your best this season. Contact us to book an appointment for a new hairdo today.
Love your hair,
Mickey