Posted by Mickey B.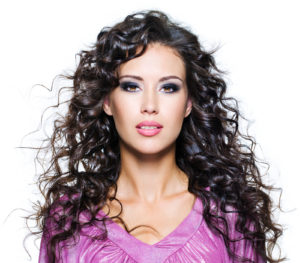 During any day at our Michael Anthony Salon in DC, I have at least one guest in my chair who wants to talk about curls. Some want to make them go away, while others dream of adding bounce and curl to their stubbornly-straight locks. Others just want help managing them and keeping frizz under control.
All you curly-heads or curly-head-wannabes … this blog post is dedicated to YOU!
While Brazilian Blowouts may be popular (and yes, long, straight, silky hair is gorgeous too!), curly hair is fabulous and always IN! Whether you were born with curls or found yourself becoming curly along the path of life (as can sometimes happen), we want to help you bring them out in all their shining, non-frizzy glory.
Custom Curly Haircuts
Curly hair has different requirements when it comes to cutting. For instance, curly hair needs layers in order to move. Lots of times when new curly-headed clients come into the Salon for the first time, they have barely any layers at all. You've seen the "triangle head" effect, right? Nobody wants it, so the question is how to get rid of it. Fortunately, it is easy and layering is the answer.
Proper layering and texturizing (thinning), helps to remove weight from dense, curly locks. It is important, though, that the weight not be removed from the ends. The professional stylists at Michael Anthony Salon will cut and layer thick, curly hair in a way that leaves the weight of the ends to help each curl take its natural – and most flattering – shape. You'll see the difference immediately (and you'll love it!).
Curly Hair Products
When it comes to styling those bad boys (your curls, that is), we can suggest curly hair products that will tame and calm them into curl bliss. There's no reason to use a styling product that leaves your curls in that not-so-pleasant "crunchy" state. For soft, girly curls on any length of hair, we have R+Co CHIFFON, a  perfect lightweight mousse for volume, body, and shine.
Got questions about your own curly do, or the one you long for? At your next appointment, talk with me or your stylist about it. We'll help you find just the right solution.
Enjoy your hair!
Mickey
---
Michael Anthony Salon DC is considered by many to be the best in the entire DC metro region. We are passionate about doing hair and work with each and every client to create a look that is right for them. Led by Mickey – aka Michael Anthony – each of our stylists is a highly trained professional. Schedule an appointment and find out for yourself!