Posted by Mickey B.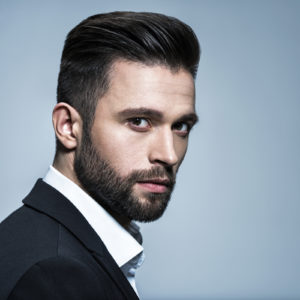 I have noticed that come spring, men tend to look for hairstyles that sharpen their look. A trend that seems to renew each year is classic barbering. Although I am not a barber, I do keep up with barbering skills and this spring I have been using them. Men are seeking variations on the classic cuts with individual styling for different hair types. With this combination there is literally something for everyone. 
Here are a few of the popular classic men's short hairstyles with their stylistic interpretations:
1. Vintage Mad Men. This simple slicked back 50's look can be polished or edgy, depending on styling. It's neatly trimmed with side partings that add volume.
2. Classic Side Part. It's a traditional look that can be re-invented with blow-drying, styling products, and a bit of experimentation. This one is open to individual customizing.
3. New Pompadour. With closely cut sides the longer hair on top adds volume that can be styled for many different, edgy looks. Men with straight hair can easily carry a side swept pompadour.
4. Curls with Attitude. For those men with curly or wavy hair, the spring trend is to emphasize those curls with texture – using mousse or pomade. If you've never worked with styling products (a bit of gel doesn't count), it's time to give it a try.
At Michael Anthony Salon we enjoy educating our clients on at-home hair care. We think you should be able to duplicate the look you leave the salon with at home. Our line of men's products are easy to work with and will quickly have you embracing your new haircut – clean cut or edgy or both!
If you've been thinking about updating your style but aren't quite sure which direction to go, let us help you decide.  An appointment with your favorite stylist is the place to start!
Enjoy your hair!
Mickey
---
Michael Anthony Salon DC is considered by many to be the best in the entire DC metro region. We are passionate about doing hair and work with each and every client to create the look that is right for them. Led by Mickey – aka Michael Anthony – each of our stylists is a highly trained professional. Schedule an appointment and find out for yourself!