Posted by Mickey B.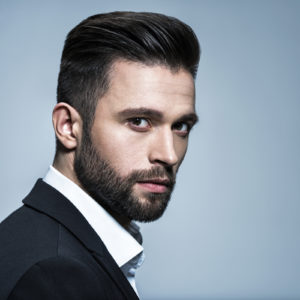 Are you looking for a new hairstyle to sharpen your look for the new year?  We are more than happy to provide advice and assistance to men who are seeking variations on the classic cuts. Keeping in mind the individual styling for different hair types, there is something new for everyone in 2023!
Any great hairstyle is a combination of cut and styling. Start with the best basic cut and work with your stylist to craft some unique looks that can be worn for both work and play. Here are a few interpretations of the most popular men's hairstyles:
1. The Undercut. Long on top, with its close-cropped back and sides, the undercut looks good on just about everyone. By keeping the sides neatly buzzed, while rocking that longer length on top, you can sweep the longer section back for a suave look. It's versatile enough to accommodate many stylistic variations and will give your hair that full, thick look. For instance, you can style it slick, straight back or to one side – or add a side part for a vintage "Mad Men" look.
2. New Pompadour. Pompadours have never really gone out of style, but there are a number of ways to modernize this look. Keep short crisp sides with a heavy, long fringe for another variation on the modern pompadour. With closely cut sides, the longer hair on top adds volume that can be styled for many different edgy looks. Men with straight hair can also easily carry a side swept pompadour. Or exaggerate your fringe for a truly unique style with a quiff – a combination of 1950's style pompadour, flat top, and bit of a Mohawk.  The look is created by leaving the top significantly longer and can be styled with a sleek side part. The quiff is a classic men's hairstyle that's excellent for men with thinner hair.
3. Classic Side Part. This traditional look is open to be individually customized. The classic side part can be re-invented and infused with a new attitude and a bit of experimentation, such as the way we blow dry it and the use of styling products.
4. Curls with Attitude. For those men with curly or wavy hair, one trend is to emphasize those curls with texture using mousse or pomade. If you've never worked with styling products (a bit of gel doesn't count), it might be time to give it a try. You could also consider a more natural style that's trending, such as wavy hair with a messy texture. It's a great look with a lot of contrast going on, but you should start with the right haircut in order to make the most of it. Once you embrace your curls, rather than try to tame them, you can use your hair's natural texture to your advantage for a shaggy, sexy look.
5. High Taper Fade. If you want to nail a suave look, one easy way to do this is with a high taper fade haircut. Using a fine-toothed comb and a bit of gel will recreate this slick, polished look, so you can feel confident and step out in style.
At Michael Anthony Salon we think our clients should be able to keep their new style looking as good as it does when they leave the salon, so we give them professional tips for ongoing at-home hair care and recommend an easy-to-work-with line of men's products.  Whether you've decided on a clean-cut hairstyle, or something more edgy, you'll be able to manage the upkeep with ease in between cuts.
If you've been thinking about updating your style but aren't quite sure yet about which way to go, we are here to help you make a decision. Based on your hair type, face shape and what you've been envisioning, we'll be happy to help you achieve the perfect look – a hairstyle that suits your lifestyle!  An appointment with your favorite stylist is the place to start.
Enjoy your hair!
Mickey
---
Michael Anthony Salon DC is considered by many to be the best in the entire DC metro region. We are passionate about doing hair and work with each and every client to create the look that is right for them. Led by Mickey – aka Michael Anthony – each of our stylists is a highly trained professional. Schedule an appointment and find out for yourself!