Posted by Mickey B.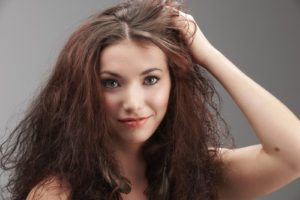 It's almost Summer on Capitol Hill and the humidity is spiking to new levels. The air has been muggy and humid, and the scattered showers do no favors to our locks. If your hair is frizzing, don't despair. A combination of salon treatments and home care will keep your hair healthy and manageable for the rest of the season.

Here's what I recommend for controlling frizzy hair:
1. Skip the daily shampoo. Try to go at least a day between shampoos. The scalp produces natural oils that help fight frizzy hair and shampooing daily removes these oils. Unless you have an over-oily scalp, there's no need to shampoo every day.
2. Use a conditioner.  A lot of us do not like conditioners because they make our hair flat. I, too, am guilty of that. But if you apply a good conditioner with UVA/UVB blockers to just the mid-shaft and ends of your hair, you can maintain healthier hair with fullness at the root. Still not liking conditioner? Have you tried a leave-in? There are many leave- in conditioners on the market that are light-weight and great for protecting the hair in the sun.
3. Do blow dry. Make sure you dry your hair 100 percent; any moisture left can automatically create frizz. Applying a heat protectant product before you dry will help keep the frizz at bay.
4. Use an in-salon treatment. For some, these simple adjustments to a daily hair care routine can help with frizz control. But if you have frizzy, kinky curls that resist – no, that fight – your efforts to control them, then you need a more serious intervention. I recommend Brazilian Blowout now available at Michael Anthony Salon DC.
And, in between salon visits, make sure that you keep your hair hydrated with moisturizing shampoos, conditioners and styling products. At your next appointment, ask your Michael Anthony Salon stylist about our new product lines.
Enjoy your hair!
Mickey
---
Michael Anthony Salon DC is considered by many to be the best in the entire DC metro region. We are passionate about doing hair and work with each and every client to create the look that is right for them. Led by Mickey – aka Michael Anthony – each of our stylists is a highly trained professional. Schedule an appointment and find out for yourself!