Posted by Mickey B.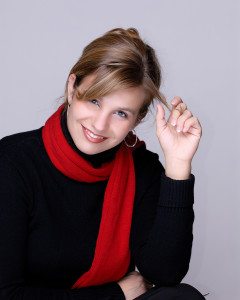 Why wait for an event to get an updo?
Recently I did a "messy bun" updo on my client, Chelsea, for a work function she was attending. She was thrilled with the result and later that day she tweeted, "Why wait for a special occasion to get an updo?"
That tweet got me thinking. The updo not only made her feel beautiful all day but it gave her an added boost of confidence on what was otherwise a very dreary, rainy day. What a great idea!
So how important is getting your hair put up, blown out, or curled for the day? Very important! Having great hair will not only help set your mood for the day or evening, it can have many other benefits.
First impressions last.
How about great hair to create the impression you want to close a deal, get that dream job, wow a first date, or exude a commanding presence during a presentation or important meeting. These are just a few examples how good hair can be beneficial.
"Hair says (to others) something about how we value ourselves. None of us wants to be looked at as if we don't care enough to take care of ourselves." — Mickey
Take care of yourself.
Getting your hair done once or twice a month isn't something you do just for other people, though. Very often, it can be the therapy you need for YOU. You work hard and you need to pamper yourself. Consider your stylist part of your personal support team and make it count. You deserve it!
One of the best things about getting your hair done at the salon is not having to fuss with it yourself. Plus, the positive results of a professional updo or blow out can last for days–not just hours.
What about those blow out shops?
There is a trend of shops popping up that specialize in blow dries. These blow dry shops usually offer a limited menu of style choices and sometimes the work is done by unlicensed stylists. You may not even get the same person twice and the price is usually the same as if you went to your own stylist.
My advice would be if you know you have something important coming up or you just want to treat yourself, call your regular stylist and book an appointment. No one knows your hair, your likes and your dislikes–in fact, your whole personality–better than the stylist you see regularly. (At least that will be true, here at Michael Anthony Salon.)
Remember your hair is the only accessory you have for life and you wear it every single day. Investing in a great haircut and a style and color that says "YOU" may be one of the most important personal care investments of your life. And think of it this way: it can cost less to have your hair done than a pair of new shoes.
Have fun with it and as always…….
Enjoy your hair!
Mickey