Posted by Mickey B.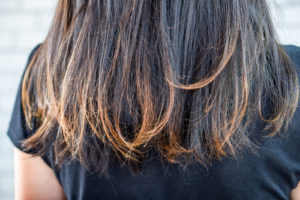 As winter takes its final bows, you may notice that your hair isn't as glossy and lustrous as you'd like. Some of that may be what we call winter damage. Even here in Washington, DC, where winters are not as crazy harsh as many places, indoor heating, bare-headed cold, and heat from dryers and curling irons, can wreak havoc. Here are some ways for you to help your hair recover from winter damage.
Don't Over Style
A lot of the breakage and dryness that hair undergoes, especially in the winter, comes from over styling. Putting too much heat on your hair can definitely dry it out and cause it to break. Then you walk outside and the coldness sucks up any of the moisture that may have been left in your hair. Try to limit the amount of intensive heat that you put on your hair during the winter and always use a heat protectant. 
Don't Leave Home with Wet Hair
As much as it's a bad idea to put too much heat in your hair, too much cold is also a bad thing. Leaving the house with wet hair is never a good idea. If you're going into the office, you risk looking unprofessional. Your hair may dry naturally, but with the sting of the cold air, it actually runs the risk of drying out much as it could from over blow-drying or over- straightening it. Our advice? Gently blow it dry making sure to use a heat protectant.
Beware of Dandruff
Dandruff occurs when the scalp becomes overly dry and begins to flake. For most people, if dandruff occurs, it will occur during the winter. If you do find your scalp starting to itch, ask your stylist about shampoos that prevent dandruff. Other treatments for dandruff include things like tea tree oil and sea salt exfoliators. Again, ask your stylist for their advice about the best treatment for your scalp.
Trim Often
People tend to skip their winter hair trim. But taking the split ends off your hair is crucial to keeping it healthy, especially during the winter. With the dead ends trimmed away, hair is able to grow stronger more quickly. Plus, your hair is able to retain more moisture when the dead ends are taken off. So, schedule that trim right away! And while you are at it…
Indulge Yourself with a Moisturizing Treatment
One of the best ways to restore your hair to its former moisturized state is to use a salon-quality conditioner. There are plenty of great moisture-rich conditioners on the market. Those that your salon carries will be of a higher quality and will ensure better results. Not only can a professional-grade conditioner help put some life back into your hair when it has become dry and damaged, but it can also be used as an excellent preventative step to keep the effects of cold – or very hot – weather under control. If your hair tends to become dry, unhealthy or brittle during the winter, this is a beauty step worth remembering. As always, ask your stylist – the other person that knows your head and scalp really well – what they would recommend for you! 
Enjoy your hair!
Mickey