Posted by Mickey B.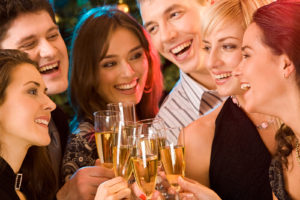 This is the time of year when we want our hair to look its absolute best. There are office parties, events with friends and colleagues, and holiday programs to attend. For some, there may also be the worry of "what mom will say if I go home for the family gatherings with roots or ratty ends?" It can be a hectic time of year. 
Not to worry. Your hairstylist is here to help with your best holiday hairstyling.  Here are some tips to help you and your hair make it stunningly through the holiday season.
Don't Wait
First, if reading this blog reminds you that you need to make a hair appointment, STOP! Pick up the phone and call your salon NOW to make an appointment. Your stylist's schedule can get very full very fast at this time of year. Make sure to ask if there are special holiday hours that might help improve your chances to get a place on that schedule. If the times you want are not available, be sure to ask to be placed on a waitlist.
Keep It Simple
Next, consider that this may not be the best time to make a drastic change with your hair. Change is good and we stylists do promote it…but there are other ways to achieve your best holiday hairstyling. Your stylist knows your hair and can give you the best advice on holiday styling. Trust him or her to work with you. Remember all those upcoming photos? No regrets or "what was I thinking?"
Go For Chic and Festive
So what can you do to spice up your look for the holidays?
Add a little sparkle to your hair. Your stylist can give your hair shine and a soft glow with subtle highlights or a color glaze.
Try updos or side'dos with braids or curls. Unique accessories will personalize your look for a special event.
Make an easy, yet bold, change to your long style by adding fringe. Ask for advice on additional options for styling.
Maintain Your Shine
With all the running around this season, your hair will most likely need some assistance. Here are two suggestions:
Dry Shampoo.  The perfect solution to a busy schedule, dry shampoo can give you an extra day or two between traditional shampooing. Better yet, it will add texture to freshly shampooed hair as well as repair the damage from hat hair. I love Spiritualized Dry Shampoo Mist by R+Co. It is light and does not leave a white powdery residue on the hair.
Brazilian Blowout. It's the season for static. A Brazilian Blowout service will add shine, reduce frizz, and improve the moisture of your hair. It will last for 12 weeks with daily shampooing.
We know that your holiday hairstyling has to look great, both in person and in photos.  Your stylist has both the expertise and familiarity with your hair to help you choose the fabulous look you want!
Finally, on behalf of our family here at Michael Anthony Salon, we send warm holiday wishes to you and your families.
Enjoy your hair!
Mickey
---
Michael Anthony Salon DC is considered by many to be the best in the entire DC metro region. We are passionate about doing hair and work with each and every client to create the look that is right for them. Led by Mickey – aka Michael Anthony – each of our stylists is a highly trained professional. Schedule an appointment and find out for yourself!