Posted by Mickey B.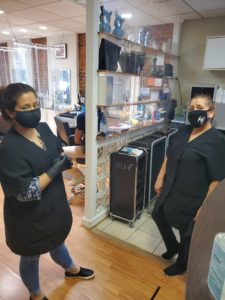 Something soothing happens when someone caresses your head – even a conventional shampooing can make you close your eyes in pleasure as your scalp and strands are scrubbed. When your salon service professional performs a head and neck massage, the experience can be doubly delicious.
While Covid-19 restrictions are in place we are not offering our special conditioning treatments. We look forward to the time when we can include that additional level of care again!
Here are some of the top benefits of pampering yourself with a relaxing head and neck massage during your next visit to the Salon.
Improved Scalp Circulation
There is a reason that shampooing at a salon feels more refreshing than when you wash your hair at home. Hair professionals know that stimulating the scalp is vital for hair health. Your hair follicles and scalp skin need exfoliating and stimulation to stay healthy. A professional scalp massage during shampooing helps exfoliate dead skin cells that can block hair follicles. Special techniques used with a professional scalp massage can improve blood flow to the hair follicles to keep them performing at optimum levels for increased growth and thicker hair.
Healthier, Vibrant Hair
A head massage can help distribute the natural oils from your scalp through your hair, your natural conditioner. A scalp-and-head massage leads to healthier hair from the follicle to the end of each strand, stimulating growth and massaging oils through your head of hair. Regular scalp massages can result in stronger, shinier hair that looks and feels terrific.
Soothing Stress Relief
If you feel super relaxed after your shampoo, and head and neck massage, you are not alone. Head and scalp massage feels fantastic, and when you add in the neck, it can alleviate the stress you didn't know you were carrying above your shoulders. "Text neck" is a common issue in our digital world – all that time peering down at your phone, tablet, or other digital devices can cramp your neck, causing pain, headaches, and overall discomfort.
During your visit to Michael Anthony Salon, the head and neck massage you receive with your service may be just what you need to relax and relieve your stress. Not only can the tension in your neck and head cause pain, but stress is also unhealthy for your skin, hair, and the rest of your body. Let our team with their magical massage fingers soothe your scalp, head, and neck, giving you stress relief during this crazy year.
Tantalizing Touch
Beyond the improvement to your hair, scalp, and stress levels, a head and neck massage is a beautiful, safe way to enjoy the benefits of touch. The pandemic has reduced the amount of touch in many people's lives – fewer handshakes, hugs, and other forms of human closeness. Having a caring professional – properly suited-up for safety – shampoo and massage your scalp and hair, perform a neck massage, and then cut or style your locks can give you more than a great look. You get the benefits of human touch that we all need in our lives.
Finally, we want to acknowledge that some people are super-sensitive to touch and a robust scalp and neck massage may be a bit too much. We get that! Just as we want to be sure the water temperature is good for you, we want you to let us know if you prefer a lighter, gentler touch during your shampoo. This really is all about you!
Enjoy your hair!
Mickey
Our shampooing team – Consuelo, Adriana, and Gilma – is incredible, with expertise in scalp, head, and neck massage. Schedule your next visit to the Salon to enjoy the benefits of a relaxing head and neck massage with your next salon service.