Posted by Mickey B.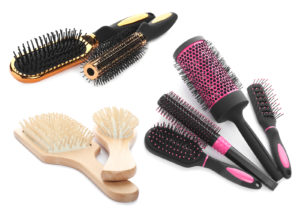 One of the most basic hair styling tools is also one of the most important. Your hairbrush can have a crucial impact on creating your style and caring for your hair between visits to the Salon. Do you know how to choose the right hairbrush for your needs and the differences in quality? Here are some tips for how to select the best hairbrush to style and caress your locks. 
The Right Bristle
The critical element of a hairbrush is the bristles. You will find hairbrush bristles made with all types of materials, from natural boar's hair to metal, nylon, plastic, or wood. While boar's hair is one of the best bristles for the hair, it is not the right material for everyone. Some of the factors to consider when choosing the best bristle for your hair include:
Hair type. Thin to medium thickness hair can enjoy a boar hair bristle's benefits, but boar bristles are not a good match for thicker hair. Nylon bristles can be best for tackling thick tresses, while curly locks may benefit from boar.
Styling. The bristle can also depend on what style you are trying to achieve. Nylon bristles can be excellent for detangling hair or combing through textured hair without altering the style. Nylon bristles can also help tame fly-away hair and reduce frizz.
Hair health. Distributing hair oils and protecting the scalp are elements to consider when choosing hairbrushes and the bristles. Boar hair is one of the best for protecting hair and promoting health, but for thicker hair, you may need a reinforced boar bristle to reach the scalp.
You may need several hairbrushes with different bristles, depending on your hair type and styling needs. There is a big difference between a hairbrush used for a few minutes during styling and one used all day long.
The Right Shape and Size
On top of your hairbrush bristle type, you need to choose the right shape and size. Most people need multiple hairbrushes for different aspects of hair care. You want quality hairbrushes made to last with various shapes and sizes for different elements of caring for your style. Some of the shape and size factors to consider include:
Paddle brushes. Large paddles are great for thicker, long hair, reducing the time needed to groom full heads of hair. Smaller paddles are fantastic for smoothing and detangling hair and a good choice for an all-around hairbrush for most hair types.
Round brushes. For an at-home blowout or to shape your hair, the round brush is a necessary hair tool. The size and bristle type will depend on your hair type and style. Consider those with ionic technology if you have trouble with frizzy hair.
Sculpting brushes. A cushion or sculpting brush can handle detangling wet hair without breakage. A cushion hairbrush is also an excellent choice for reducing static when brushing dry hair for a smoother appearance.
Smaller, styling brushes. For more detailed styling, options like edge or teasing brushes can put the finishing touches on your style.
Handles. Even the handle of your hairbrush can make a difference. You want a quality styling tool that will last with a handle that is comfortable to use, whether it's ergonomic in design or made to fit your grip.
Enjoy your hair!
Mickey
When choosing your hairbrushes and other styling tools like blowers and flat or curling irons, let our hairstyling pros point you in the right direction for your specific needs. We carry quality hairbrushes and styling tools at Michael Anthony Salon, and we can special-order your tools, if necessary. Talk to your stylist when you come for your next appointment to ensure you have the best hairbrushes to care for your style between visits.