Posted by Mickey B.
As we move from summer into autumn and the leaves start to change color, perhaps you'll be inspired to transition your hairstyle.  If you're looking for a way to lift your spirits as the days get shorter, a fresh cut or new color could be just the thing! Your stylist is ready to help you find just the right look for the fall season.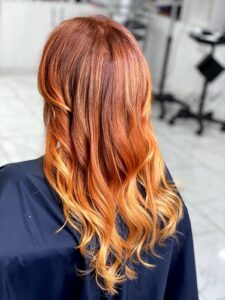 Before deciding on a new color or style, let's consider the condition of your hair following the summer months, during which your tresses have been likely overexposed to the sun, saltwater, and chlorine. We recommend products such as a masques or deep conditioners that replenish moisture and build strength into your stressed-out hair. Fall is the perfect time to cut off those split ends and use a smoothing treatment. When chatting with your stylist, ask about the types of products you can incorporate into your fall haircare routine such as smoothing balms or serums. The benefits are long-lasting, and the result is frizz-free, stronger, and healthier hair.
When it comes to a fall color refresh, you might want to take inspiration from the autumnal leaves. Copper tones are trending hot as the weather cools down, with its echoes of harvest moons and orange sunsets. Copper, though it is one of the brighter hues, can be modified to work with any skin tone. Adding copper accents to a spicy ginger shade makes a naturally warm base color even more appealing.  A Honeyed-Caramel Blonde is a perfect autumn shade for anyone who desires a warm, more muted blonde tone – without crossing over into brunette territory. Another trend to consider from that same family of shades is chunky caramel highlights – these are a great way to brighten your complexion and can work for nearly all skin tones, since the lightness or darkness of the highlights can be adjusted based on your natural coloring.
Autumn is the best time to experiment with deeper tones: case-in-point, earthy-neutral browns, the color of Portobello mushrooms, a perennial fall classic. For someone who's looking for more tonality and warmth with a darker base color, reddish hues are a great autumnal option, especially when providing contrast with olive skin tones. Wine colors, such as the hot trend of Mahogany Merlot, or the bold tones of a beautiful Burgundy, pairs perfectly with your fall wardrobe full of sweaters and boots.
If you're ready to take on autumn with a brand new look, meeting with your hairstylist is a great first step into the new season.
Enjoy your hair!!
Mickey