Posted by Mickey B.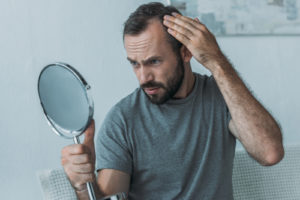 There are some questions that make us uncomfortable. "Am I going bald?" is akin to "Does my butt look big in these jeans?" Awkward or not, in the hair salon clients count on their hairdressers for an honest response.
When the answer to this question is "Yes," – and sometimes it is – I want to give good information about baldness AND make sure the answer helps the client feel better. After all, I want him or her to be able to hear what I am saying.
Let me start by explaining the most common cause of hair loss or baldness and some things that can help.
What causes hair loss?
Dihydrotestosterone (DHT), a derivative of testosterone, is the enemy of hair follicles on your head. DHT can build up on the hair follicle causing the hair to shrink in diameter and eventually clogging the follicle. This prevents new hair growth after shedding an old strand and can lead to androgenetic alopecia, commonly called male or female pattern baldness. While testosterone is at the core of the balding process, DHT is thought to be the main culprit.
Can hair loss be prevented?
The key to slowing down pattern baldness and growing thicker fuller hair is keeping your scalp clean of DHT. Talk to your hair stylist if you have concerns. There are things we can recommend for early stages of thinning hair but you may also want to consult a dermatologist.
There are great salon brand shampoos, conditioners, and treatments you can use at home. These products are meant to cleanse your scalp of DHT, nourish the follicle, and prevent new DHT build up. There are a few brands that all do the same thing. Ask your stylist for recommendations.
What can be done if hair loss has already happened?
Hair fibers are great for filling in spots you feel are too thin. These natural hair keratin fibers are peppered onto thin areas of the head and are sealed in with hairspray. They look totally natural and wash out with every shampoo. They also add volume. Plus you can match your natural color.
The most important tip I can offer is to talk with a styling professional that you trust. Your hair stylist knows your hair, your scalp, and is a source of reliable information and suggestions.
More questions? Contact us. Get over the awkwardness. We'll give you all the information you need and help you decide your next steps.
Enjoy your hair!
Mickey
---
Michael Anthony Salon DC is considered by many to be the best in the entire DC metro region. We are passionate about doing hair and work with each and every client to create the look that is right for them. Led by Mickey – aka Michael Anthony – each of our stylists is a highly trained professional. Schedule an appointment and find out for yourself!