Posted by Mickey B.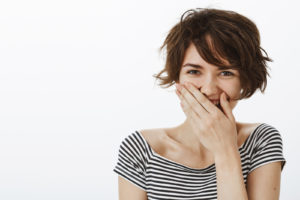 As the season turns sultry, our stylists at Michael Anthony Salon DC see an uptick in requests for shorter hair.  If you are looking for ways to keep your head cool in the heat, a haircut might be just the answer. Do you find yourself in the midst of a hair dilemma and asking yourself, "Should I cut my hair?" or "How should I get my hair cut?"
Cropped, Casual, Classy
Many women are now adopting the three C's. They are looking for something fresh and new that is cropped, casual and classy. Celebrities and fashion icons – think Michelle Williams, Kate Mara and Miley Cyrus – are also trading in their long locks for something shorter and chicer. However, many who've been used to longer lengths might still be wondering "Should I cut my long hair?"
If you grew up with a style "tradition," which dictated that short hair is only good for women at a certain age or during a certain season in life, get over it! Times have changed. Contrary to these outdated beliefs, you can make a change in hair length during any season and at any age. After all, it's a woman's prerogative to exercise her style options.
Here are a few benefits that you might enjoy with a shorter look.
Healthier Hair 
Cutting the hair might not be such a bad deal if you're experiencing thinning and breakage. A professional cut will not only preserve the hair but will also give the appearance of thicker hair that is healthy and full.
Easy Maintenance
Your hair stylist will be able to give you some options that are very easy to manage in between salon visits. Shorter hair can be easier to maintain for obvious reasons (less hair) especially for busy and active women on the go.
Customized Style
Not all short haircuts are created equal. A basic cut might have multiple looks that you can experiment with for different occasions. Going from flat to curly is not just an option for long hair, and there are many short styles that offer plenty of versatility, so you are not locked into one standardized look. The key is to select shorter styles that complement facial features and face shape.
So, throw away those limits when it comes to creating a new look! If you're still pondering the decision to cut your hair, be bold, be courageous and take a chance with the three C's! Consult with your hair expert today!
Enjoy your hair!
Mickey
---
Michael Anthony Salon DC is considered by many to be the best in the entire DC metro region. We are passionate about doing hair and work with each and every client to create the look that is right for them. Led by Mickey – aka Michael Anthony – each of our stylists is a highly trained professional. Schedule an appointment and find out for yourself!