Posted by Mickey B.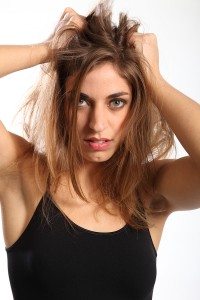 It is that time of year. Summer vacations are over, the kids are back in school, and your hair needs some much needed attention.
The summer sun, salt water, and pool chlorine can wreak havoc on your hair leaving it dry, brittle, and unmanageable. Now is the time to get your hair back in shape and ready for the dry cool days of fall and winter.
Summer Hair Care
There are many ways to replenish moisture and rebuild strength to your hair. For the best results, we recommend that you schedule an in-salon treatment. An in-salon treatment will give your hair a concentrated and powerful punch of goodness that you can then follow up and maintain with a prescribed take-home hair care regimen.
We do not recommend using drugstore products to treat your summer-stressed hair at home and here is why. Many non-professional grade products contain synthetic waxes and other artificial or watered down ingredients that have little to no benefit and will build up on your hair. Poorer quality products can actually leave your hair weaker, dryer feeling, and lifeless. Not what you want.
Michael Anthony Salon DC's Awapuhi Wild Ginger treatment is our best all around suggestion for an in-salon treatment that will work for your hair type, whatever its personality. Here is why we, at Michael Anthony Salon, think it is a fantastic choice:
Awapuhi Wild Ginger treatment reduces breakage by 80%, improves shine by 35%, and prevents color fading up to 67%. It is great for all hair types and offers a complete line of take-home products to keep the benefits of the treatment going. When you call or go online to make your appointment, plan to add about 45 minutes to your appointment time for this extra-pampering treatment.
"What matters is that you find and use a deep conditioner that will deliver the moisture and strength that your hungry hair needs."–Mickey
Don't have time for in-salon treatments? We can recommend options by Michael Anthony Salon DC or AG Hair for at-home use that will also help nurture your summer hair back to health. But why do it yourself at home when you can have an expert salon assistant pamper you with a great scalp massage and conditioning treatment? …Just sayin'.
Your hair is your most important accessory and one that you have for life. We want to help you take good care of it. Questions? Ask any of our stylists, leave a comment on this blog, or drop me an email.
Enjoy your hair!
Mickey
During September 2013, we'll take $10 off your in-salon Awapuhi Wild Ginger Treatment at Michael Anthony Salon. A great opportunity to give it a try and experience the difference it will make.