Posted by Mickey B.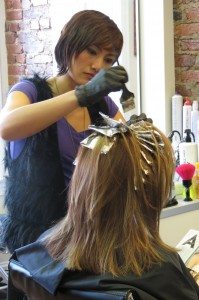 Have you been thinking about adding some pizzazz to your hairstyle with professional hair coloring but don't know which service would be best for you? If so, you aren't alone. The stylists here at Michael Anthony Salon and I get asked these questions all the time.
Two of the most popular color services in the salon are all over color and highlights. Both are great options for livening up your locks and adding interest to your style. But how do you decide which one to choose? You might even want to do both. So, how do you know what's right for your hair and individual style? Here are a few pointers:
Choose all over hair color if:
Your hair is extremely short
You have more than 30% gray
You look better in warm, vibrant colors such as red
Your cut is already trendy enough and you don't want to overdo it
Choose highlights if: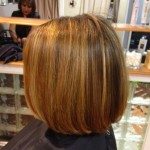 You'd like to add dimension to a simple, unlayered haircut
If you have dark blonde or light brown hair
If you have a little bit of gray that you would like to blend away
If you can't commit to getting your roots touched up faithfully
If you look best in cool colors such as blues, purples, and greens
If your style needs a little interest around your face and a few chunky highlights would do the trick
If you're nervous about a big change
Do both if:
You have a lot of gray but would still like the effect that only highlights can obtain
You want to add red or warmth and still have some chunks of lighter color around the front
You are trying to correct or change another hair coloring application before you get highlights
If your hair has become too light due to over processing and sun damage or was lightened too much during your last color process
There are many other reasons why people choose the hair coloring services that they do, and those reasons can be as varied as the people themselves. So, if you have a color idea, do not be afraid to talk to your stylist about it. Also, do not hesitate to ask for advice if you really aren't sure what you want but you know you want something. By working together, you and your stylist can find the perfect color combination to give you your best look yet.
Enjoy your hair!
Mickey
---
Michael Anthony Salon DC, is considered by many to be the best in the entire DC metro region. We are passionate about doing hair and work with each and every client to create the look that is right for them. Led by Mickey – aka Michael Anthony – each of our stylists is a highly trained professional. Schedule an appointment and find out for yourself!