Posted by Mickey B.
Should I color my hair to cover the incoming gray? How can I go from color to natural gray? Is it possible for my gray to have those bright and shiny silver tones, like Helen Mirren?  These are questions we frequently hear from our customers at Michael Anthony Salon. Here's what we tell them.
Covering gray is the most popular reason to start coloring your hair.  Once you make a decision, your stylist can advise you on your color options. As with hair, complexions tend to get lighter with age, so the best color to match your skin tone may not be your original hair color.
Growing out colored to gray hair takes preparation. There are salon techniques – highlights or short haircut styles – that can ease the gradual transition and diffuse the color demarcation.  But the real challenge comes when you decide to go for that natural gray look. "Natural" gray often needs help.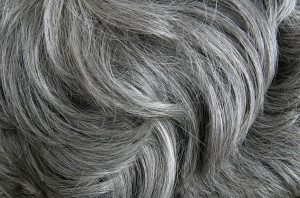 Depending on what you are looking to achieve with gray, you may still need some color services. Why? Gray hair does not always come out evenly – and even when it does, it may not be as vibrant as what you see in the magazines with Helen Mirren or Jamie Lee Curtis. Those fantastic looks are often enhanced with color and/or photo touch-ups – what may look "natural" may not be as natural as it looks. To get the gray or silver tones you are looking for, you may still need some color blending, highlights or lowlights.
In addition, as hair turns gray it not only changes color but it also changes texture. Gray hair is usually coarser. It can have the appearance of dullness, look wiry, or even have a yellowish cast to it. All of these conditions can be fixed. Chances are that those fabulous gray-haired celebrities you see in magazines can thank salon treatments for hair that is shiny and soft with vibrant silvery tones.
Here are a few tips to get fabulous gray locks. Gray hair can quickly start to yellow from pollution, hard water, or some products that contain dyes. Ask your stylist about two types of shampoo are available to get rid of that yellowish cast:
  Clarifying Shampoos will help remove impurities from the hair.
  "Purple" Shampoos are used for toning rather than for cleansing hair and will neutralize unwanted yellowing in gray or blonde hair.
If your gray hair is looking wiry, talk to your stylist about a re-texturizing service, such as a keratin smoothing treatment or a mild relaxer. These can help soften the hair and create shine.
My point?  Gray hair does not equal no-maintenance hair.  Gray hair will need regular care – and even some color – to maintain the soft, vibrant, and gorgeous look you want.
Enjoy your hair!!
Mickey
---
Michael Anthony Salon DC is considered by many to be the best in the entire DC metro region. We are passionate about doing hair and work with each and every client to create a look that is right for them. Led by Mickey – aka Michael Anthony – each of our stylists is a highly trained professional. Schedule an appointment and find out for yourself!