Posted by Mickey B.
I'm just starting to go gray – should I let it take its natural course? What if I want to go from color to natural gray? Is it possible to get the same shades of silver as Jane Fonda or Helen Mirren?  If you are contemplating whether to "embrace the gray" or cover it up, request a consultation with your stylist, especially if you're still in a "gray area" about making a decision. Here are some things you should know.
Embracing the Gray is one of those ongoing trends over the last year or two that gained traction in mid-2020, subsequent to the onset of the Covid pandemic. Many women who were unable (or unwilling) to venture out to salons found new ways to cope with their hair during lockdown – and some seem to have found a "silver lining" in making peace with their grays. Going fully gray isn't just for older women.  There are many in their 20s and 30s, some of them popular influencers, who, having discovered they were going prematurely gray, made the decision to embrace it wholeheartedly.  Now, as they return to the salon en masse, they realize the intrinsic value of the guidance provided by their stylists and colorists as they seek the most perfect shades of gray and silver. This has been a trend for a while, but it really accelerated after Jane Fonda announced how she was "so happy" that she finally embraced her gray. Ms. Fonda's beautiful silver-haired look, while admittedly stunning, might not work for everyone. If you're looking for that exacting shade of silver, it's important to be clear about your expectations, and realistic with both your time and your budget. Ms. Fonda's stylist revealed that transforming her locks from blonde to silver took 7 hours to accomplish. Not only do you need to be prepared to spend a good part of your day (along with your pocketbook) in the salon, you need to consider the post-gray upkeep that will be required. Your stylist will explain all that is necessary to maintain that gorgeous gray look, prior to making a commitment.
Depending on what you are looking to achieve with gray, it's very likely that you'll still require some color services. Why? Gray hair does not always come out evenly – even when it does, it may not have that vibrancy that's so stunning on actresses such as Jane Fonda, Jamie Lee Curtis, or Judi Dench. Many of those striking images in magazine photos are often enhanced with photoshopping or color touch-ups – in other words, what may look "natural" may not actually be as natural as it appears in print. To get the gray or silver tones you are seeking, we might advise you to get highlights or lowlights, or you may need some color blending. 
Growing out colored hair to gray takes preparation. There are ways to ease the gradual transition – salon techniques such as highlights or short haircut styles, which will diffuse the color demarcation.  However, the real challenge comes when you decide to go for that "natural" gray look. "Natural" gray often requires some 'behind-the-scenes' help. As hair turns gray, it not only changes color but also changes texture, and usually that means it becomes coarser. It can appear dull, wiry, or even have a yellowish cast. Don't despair, though – all of these conditions can be fixed. It can, however, require some time-consuming treatments. Chances are that those fabulous gray-haired celebrities you see in magazines are, in reality, thanking their stylists for salon treatments that give them their shiny, soft hair and their vibrant silvery tones.  If your gray hair is looking particularly wiry, talk to your stylist about what services might be best for your hair.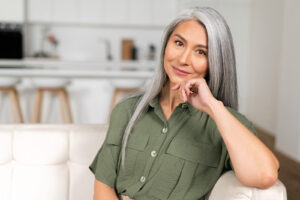 Take-home products can also help with maintenance. Ask your stylist what might be best for your hair. For instance, two shampoos that often help are:
Clarifying Shampoos that will help remove impurities from the hair

"Purple" Shampoos which are used for toning rather than for cleansing to neutralize unwanted yellowing in gray or blonde hair
My point?  Gray hair does not equal no-maintenance hair.  Talk to us about the pros and cons before you decide whether this trend is for you. If you do make the decision to embrace the gray, we are here for you and will do everything necessary to help you achieve the look you desire. Just remember that gray and silver hair will always need extra care – and even some color – to maintain the soft, vibrant, and gorgeous look.
Enjoy your hair!!
Mickey
---
Michael Anthony Salon DC is considered by many to be the best in the entire DC metro region. We are passionate about doing hair and work with each and every client to create a look that is right for them. Led by Mickey – aka Michael Anthony – each of our stylists is a highly trained professional. Schedule an appointment and find out for yourself!