Posted by Mickey B.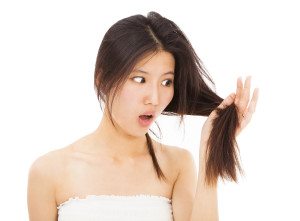 Old man winter is finally here, and that means hat hair season. If you're like me with fine, straight hair you know hats can be hard to wear. The minute a hat hits my head, my hair goes flat and there is no recovery.  But, if you are frustrated by hat hair, don't despair. There are ways to counter the effects of winter on your hair. From Michael Anthony Salon in DC, here are a few tips:
Avoid the Shriek of Static Hair 
Going in and out of dry, warm buildings into dry cold air outside can create static in the hair. The solution is quite easy. When you see static, use a leave-in spray conditioner and lightly mist your hair. Not only will it hydrate your hair, but it will also help prevent static throughout the rest of the day.  You may also want to boost the level of moisture in your daily conditioner. If you don't usually use conditioner, this is the time of year – when your hair needs it the most – to reconsider. Conditioner on the mid-shaft and ends of your hair will help to keep static away and prevent your hair from going flat.
Add Moisture to Combat Dryness.
At Michael Anthony Salon DC, we use a variety of products to  balance the hair's moisture and works to prevent the loss of moisture.
A great styling product can add moisture to your hair and help with that dry feeling you get this time of year. Ask your stylist for suggestions on the best conditioners and moisturizers for your hair. You can maintain beautiful, shiny hair that is free from dryness throughout the challenging winter season.
Treat Yourself to Salon Pampering.
Seasons change, and while we are switching out our closest from warm to cold, we want to make the same wardrobe change into our hair products as well. Not sure what shampoo and conditioner is right for your hair? We've got you covered with the best products on the market and can't wait to assist you with your questions and concerns.
You don't have to go it alone. If your hair is looking tired and hungry, give us a call today so we can help. Come on in, and let us pamper you with a decadent deep conditioning treatment.
We are always here to help if you have any questions.
Enjoy Your Hair!!
Mickey
---
Michael Anthony Salon DC  is considered by many to be the best in the entire DC metro region. We are passionate about doing hair and work with each and every client to create the look that is right for them. Led by Mickey – aka Michael Anthony – each of our stylists is a highly trained professional. Schedule an appointment and find out for yourself!