Posted by Mickey B.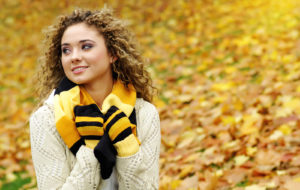 Fall feels like a season for fresh starts – maybe a holdover from school days. Even as the tropic effect lingers, it's time to pack up our summer attire and refresh our wardrobe with new fashions for cooler weather. For many, clothing isn't the only style change they seek as the temperatures drop; autumn often welcomes a hairstyle update, as well. 
As the transition into colder seasons begins, the heating systems kick into gear, and the air loses its moisture. The result of both? Dry air which leaves your hair feeling dry and creating static. By altering just a few things in your daily hair routine, you can once again have shiny, bouncy hair during the chilly, dry months ahead.
An Autumn Hair Care Routine
The first step is to begin using a deep conditioner or masque.
Following the summer months, your hair will likely need a little love to recover from the sun, beach, and poolside fun. Both treatments work to replenish moisture and build strength into the stressed-out hair. Use a masque or deep conditioner weekly to both rebuild and maintain strength in your hair, while adding moisture.
Typically, these treatments take about fifteen minutes or so. If you don't have the time for the full treatment, substitute a deep conditioner or masque in place of your daily conditioner a few times a week.
Next, incorporate smoothing balms and serums into your hair routine.
These products are a sure way to add shine and moisture to hair while blow drying – and they will also prevent static fly-aways and humidity on rainy days.
Finally, add a smoothing treatment or split end corrector treatment.
These treatments work well to keep your hair at its best, not just in autumn – but also year-round. The benefits are long-lasting, and the result is frizz-free, stronger, and healthier hair.
Ask your stylist on your next visit what treatment or products work best for you.
Enjoy your hair,
Mickey
---
Michael Anthony Salon DC  is considered by many to be the best in the entire DC metro region. We are passionate about doing hair and work with each and every client to create the look that is right for them. Led by Mickey – aka Michael Anthony – each of our stylists is a highly trained professional. Schedule an appointment and find out for yourself!