Posted by Mickey B.
Capitol Hill Salon owner Mickey Bolek – hair styling genius-with-scissors at Michael Anthony Salon near Eastern Market in Washington DC – has another set of blades that he keeps pretty sharp; his figure-skating blades.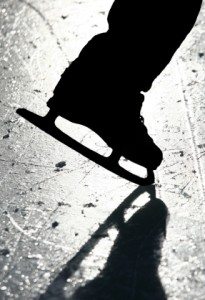 Fulfilling a lifelong dream, Mickey (a.k.a. Michael Anthony) will be in Chicago the week of April 9-15, 2012, competing for the first time in the Adult U.S. Figure Skating Championships. "I've wanted this for a long time," says Mickey, "but it doesn't just happen because you dream about it. Like any dream worth pursuing, you have to get up – every day – and dedicate yourself to it."
So, while many Washingtonian's may, during their spare time, be basking in the sun of the early warm weather here on Capitol Hill and in the greater DC metro region, there is a good chance that Mickey will be found at the ice rink. The Salon comes first admits Bolek, but instead of the gym he hits the ice before and after Salon hours and on his days off. "It takes a lot of work, but when you are doing something you love it just feels right … and that feels great!", says Mickey.
Winning would not be a new thing for Mickey and his top-notch team of stylists at this Capitol Hill Salon. Washington City Paper's 2012 Readers' Poll recently voted Michael Anthony Salon a winner for the third year in a row, in its Best of DC awards. Bringing home the "silver" is a big win for an independent salon with lots of competition. Michael Anthony Salon has won this recognition every year since they opened in 2009. That's saying something.
"The credit for the Best Of DC win," says Bolek, "really goes to the extraordinary hair stylists and professionals that make up the Michael Anthony styling team." And, of course, the loyal customers–men and women, and their kids– who claim that this is their favorite hair salon and put it to the vote every year.
"If only THEY were the judges in Chicago, this week!" says Mickey with a laugh. Regardless of the outcome of the Adult U.S. Figure Skating competition in Chicago, this daring, dreaming and ice-dancing hair stylist gets to come home to the gold – his very own Capitol Hill Salon and the love of his loyal fans.
---
Read The Washington Post Story, and see the Photo Gallery.