Posted by Mickey B.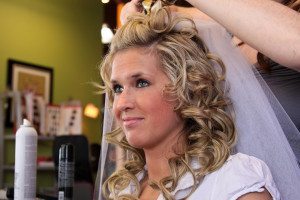 I recently had a conversation with a client who is in the catering business. We talked about seasonal demands for services. He reminded me that spring is the busiest time for weddings. Since spring is just around the corner, I'm just in time to share some advice on how to get the perfect wedding-day hairstyle.
Start with your trusted stylist. Ask if he or she does updos or special occasion hair. Not all stylists do. If not, ask for a recommendation to a stylist who specializes in wedding hairstyles. Choosing your bridal hairstyle can be a challenging part of wedding planning. Here are some ways to simplify it:
Schedule a hair trial consultation. This will give you a chance to get advice and try out a potential hairstyle. Come prepared to work with the stylist.
Narrow your options.  Your perfect hairstyle may not be in a single picture. Bring to your consultation many different pictures highlighting the things you like about each style. Then, rely on your stylist's expertise to create something unique for you.
Consider your budget. Talk with your stylist about it. An investment in high-quality services for hair, makeup, and photography is well worth it. While everyone loves a good party, after your wedding you will have a mate and an extended family for a lifetime. Look your best for those fantastic memories and photographs that will be shared with generations to come!
Do a test run of your style. Take pictures. Here at Michael Anthony Salon, we include one trial run as part of our standard wedding package. Around a month before is ideal. This will give time to work out any issues that need changing. It is also close enough to the wedding date for your stylist to remember and recreate the look.
Wash and dry your hair on the day before your wedding. Freshly shampooed hair may be too slick and soft for the style to hold throughout the day and evening.
Whenever it happens for you, congratulations on your engagement. Most of all, enjoy your special day, and I hope your wedding is everything you hope for.
Enjoy your hair!!
Mickey