Posted by Mickey B.
Have you ever wondered how you would look as a redhead? Lots of women have. Red hair color is a standout  – less than 2% of the population is naturally red – and redheads grab the attention. For some, going red can be an agonizing decision. 
I love a good red hair color. When done right – with the right skin tone match – it can turn heads and drop jaws. But let's face it – not all people can wear red as a hair color. Here are a few things to consider before taking the plunge.
The Right Red for You
Not all reds are the same. Before you do anything, consult with your colorist. Discuss what levels of lightness or darkness would work for your skin color.
Look at swatches to choose the right tone. Are you a warm red or a cool red? Or would a custom blend of different tones be the perfect balance of cool and warm for you?
There are many shades of red –  from fiery reds to auburn –  or mybe a nice chestnut red. Your colorist will help pick what is best for you.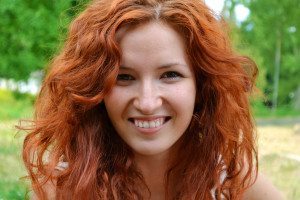 Keep the Red Radiant
Red hair color requires more maintenance than a brunette or blonde. Red pigments fade like no other color and need to be freshened up more often. Your hair has a better chance of being radiant red if it is well cared-for.
Your stylist is the best source of advice on care and maintenance of your new red hair! Ask about sulfate-free shampoos and conditioners and avoid hot water. Even better, skip days between shampooing or fill-in with a dry shampoo.
A word of caution. Red hair color is more challenging to remove from the hair if you decide to switch to different color.
Red hair can be fun, flirty, and sexy. If you are looking for a striking new look that comes with a boost in attitude as well, go for it!!!!!
Enjoy your hair!
Mickey