Posted by Mickey B.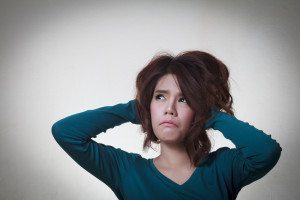 We get quite a few clients who come to us with henna in their hair and want it removed. They say they wanted a chemical-free, natural coloring service and are unhappy with the results. I say, don't be fooled by henna hair coloring. 
It was by mistake that I learned about the dangers of henna. Now I know that if you use it to color your hair, you may unwittingly create a hair disaster.
Lesson Learned
Many years ago I had a client who was using a henna product on her hair to cover grays and give shine. She was using a black henna. While her grays were not visible, her hair was certainly not shiny. It was dry and dull. She asked me for highlights. I, being a pretty new stylist, thought I could just give her highlights and all would be good in the world. What happened was a horrible chemical reaction that resulted in extreme damage to her hair. A heart-stopping experience for a young stylist.
After being horrified and making it right for the client, I did my research about henna hair coloring and here is what I found:
Natural Henna
Henna (Lawsonia Inermis) is a flowering plant. The leaves of the henna plant contain a natural and very effective coloring pigment: Lawsone. Crushing the leaves releases a red-orange dye molecule. Natural henna does not come in a range of colors.
Compound Henna
The black henna that my client used had been compounded by the addition of chemicals, metallic salts or other plants. The problem is that hair bleach or permanent hair color interacts badly with compound henna dyes. The combination is disastrous – green or purple color, severe breakage or even totally fried hair. Certainly not the shiny results desired.
So the next time you're thinking of choosing a "natural" alternative for coloring your hair, do your research and check your sources. Most importantly, discuss it with your stylist before you make any decisions. You can benefit from my lesson learned.
Enjoy your hair!
Mickey
Michael Anthony Salon, Best Hair Salon, BEST of DC 2015 Reader's Choice