Posted by Mickey B.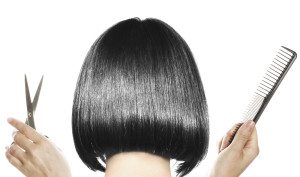 I recently read an article in Harper's Bazaar about dry cutting hair. The writer described some of the situations in which dry cutting is preferred. Since this method of cutting has become very popular, I thought it would be a good time for me to weigh in on the subject. 
Dry Haircut vs. Wet Haircut
I have never been much of a dry cutter myself. Outside of bang trims and finishing touches on a cut after the blowout, I prefer to cut freshly shampooed wet hair. Wet hair allows me to manipulate the hair easier and make cleaner partings for cutting.  For most clients, a wet haircut is best. Nevertheless, I have found situations where the best option is the dry cut method. There are several benefits of dry cutting hair. Let's discuss a few.
Customize the Curly Haircut
Some curly hair can benefit hugely from dry cutting. Dry cutting curly hair allows the stylist to see how the curls naturally lay and customize the cut based on curl pattern and texture. Be forewarned, though – dry cutting curly hair is not precision cutting and there may not be the fluidity in the shape when styled straight and smooth.
Wavy and Straight Hair
Sometimes dry cutting wavy and straighter hair types may give a better read on how the hair will move and how layers will fall  than cutting wet hair. What you see now is how it will look.
Fine and Thin Hair
Some fine, thin, and fragile hair types especially benefit from dry cutting. When hair is wet, it stretches when combing and brushing. Stretching can cause breakage on damaged hair and increase the shedding for clients who have medical or hormonal issues.
Whether a dry cut might be best for you really depends on your hair type and goals for your hair. If curious, talk with your stylist to see if a dry haircut may be right for you. Don't worry – you can still have that fabulous Michael Anthony Salon shampoo experience. We will dry your hair before we cut it.
Enjoy your hair!
Mickey