Posted by Mickey B.
If you've been paying attention to any style reports, you have been introduced to "fashion" or "jewel" tones for hair color. Ranging from silvery gray to hot pink to fiery coral – with denim blue in there – these tones are capturing fashion headlines. There's an explosion of color choices to choose from.
Stylists have been coloring locks with every color of the rainbow for the past few seasons. The current trend of jewel tones is inspired by cartoon mermaids, Japanese anime, even oil slicks. Consider the latest craze – denim colored hair to match your jeans. Who is wearing these hair color trends?
Edgy Hairstyles Gone Mainstream
Women of all ages are getting more adventurous with their hair color. Although bold colors like blue and purple were once seen as a young person's youthful, punky style, the jewel-toned shades are now embraced more widely. A hip younger generation seeks the super stylish effect of these color trends and older women looking for a modern sophisticated look are not far behind.
Mature women are letting their hair go gray naturally and adding pops of pinks, blues, purples, and fire engine reds. Their naturally gray hair is an advantage when adding funky colors. It does not have to go through the process of pre-lightening before adding the semi-permanent fashion tone.
"I have a client who changes her color according to the holiday. So don't be shocked if your mother or grandmother comes home from the salon with hair color that matches her jeans."
Hair Color Ideas are Bolder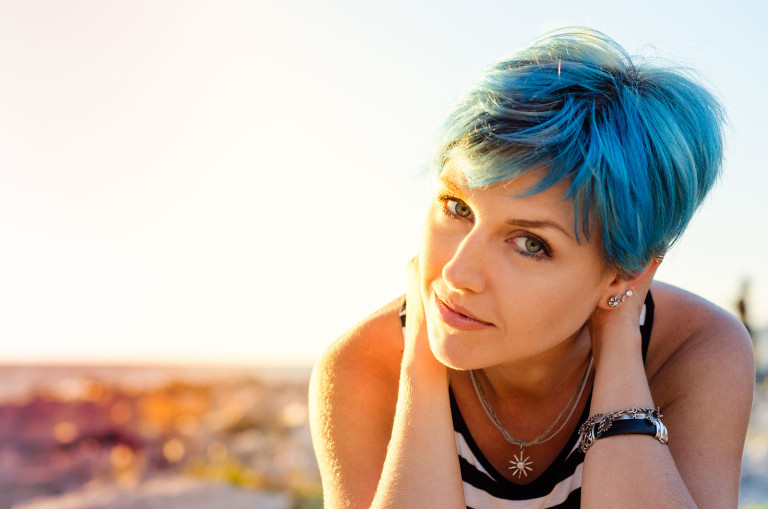 As a colorist I get very excited to see clients step out of their comfort zone and try a bold new color or a splash of a vibrant jewel tone. If you are looking to add a pop of fun to your hair color, no matter your age, talk to your stylist about what you can do. Whether it's an accent streak or coloring your entire hair mermaid blue, here at Michael Anthony Salon we have every color in the rainbow and then some.
Michael Anthony Salon in DC features products both for sale in our Salon as well as with the services you receive.  We now have two new color lines from Michael Anthony Salon DC – Pop XG and The Demi – and a new product line geared towards teenagers and young adults – NEON. Your next appointment may be the perfect time to try one.
Be BOLD!!! Add some pop to your look. And as always,
Enjoy your hair!!
Mickey
---
Michael Anthony Salon DC, is considered by many to be the best in the entire DC metro region. We are passionate about doing hair and work with each and every client to create the look that is right for them. Led by Mickey – aka Michael Anthony – each of our stylists is a highly trained professional. Schedule an appointment and find out for yourself!