Posted by Mickey B.
This years Oscar awards did not disappoint those of us watching for the hair and clothes. No no no.
The looks on the red carpet were stunning. This year hair was more relaxed–loose, wavy, soft–and many celebrities opted to wear their hair down.
These looks were tres chic!!!

You can get these red carpet looks at home. Here's how…
Use a large curling iron 1 1/2″ to 2″ barrel size.
Take 1″ to 2″ vertical section of hair and wrap the hair around the iron in a candy cane spiral directing the hair away from your face.
Concentrate on curling the mid shaft and ends of your hair.
Continue this technique all over the head,
Leave the curls to cool without handling them…yet.
After you have completed curling your entire head, and your hair has cooled from the curling iron…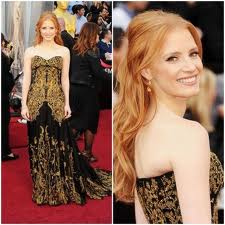 Separate each curl by running your fingers through the hair from top to bottom or use a wide tooth comb.
Brushing is not recommended as it will give the hair too much volume for this look and feel.
Remember: The larger the section of hair the looser the curl.
Now … where's that red carpet … ??
---
Read more of Mickey's Tips for Head-Turning Hair. Can't wait for Mickey to get his hands on your head? Book an appointment now!