Posted by Mickey B.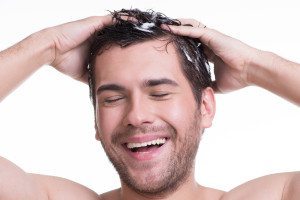 When guys come to my salon for a haircut, they start out with the usual treatment – luxurious shampoo and scalp massage. I don't know if that service is the trigger, but the next question frequently asked is, "How often should I be washing my hair?"
The shampoo is an essential component of men's grooming. What's true is that every head of hair is different.  Two variables – the thickness and oil content of the hair plus the dryness of the scalp – have to be considered. For example, oily hair needs more frequent shampooing than dry or chemically treated hair. If your hair is fine and tends to go limp, you probably want to wash and style more frequently than someone with thick curly locks.
Both shampoo and conditioner have specific purposes in any man's hair care routine. You may be surprised to learn that it is not necessary to both shampoo and condition at the same time.
Shampoo removes dirt and oils from your hair and scalp.

Conditioner adds weight and texture to your hair.
Keep in mind that some oils are useful and certain individuals produce more than others. It makes sense that, in addition to the oily vs. dry variable, different hair types need different hair regimens.
STRAIGHT HAIR: If you are looking for a dry look, you can shampoo every day if you want. Daily washing rids natural oils from the hair and scalp. How frequently you add conditioner is determined by how heavy you want your hair to be: 4-5 times a week if you like it heavy and weighed-down; one or two if you like it light.
WAVY HAIR: The build-up of oils can straighten out your hair and make it look greasy. Wash your hair three times a week. Use conditioner when it starts to look dry – not more than once or twice weekly.
CURLY/KINKY HAIR: If you have curly hair, you should use a moisturizing shampoo to prevent you from washing out too much oil.   Don't shampoo too frequently—at most 2-3 times a week. Use conditioner once or twice a week and not on the same days you shampoo. Your moisturizing shampoo will help maintain some of the oil needed for control.
At Michael Anthony Salon, we know that when you wash, the products you use can go a long way toward maintaining smooth, shiny, and healthy hair. As a Michael Anthony Salon DC Focus Salon, we are committed to bringing you top-quality products.
Our message to guys? Choose a system of haircare that fits your lifestyle and your preferences, as well as the characteristics of your hair.
Enjoy your hair!
Mickey
Michael Anthony Salon, Best Hair Salon, BEST of DC 2015 Reader's Choice