Posted by Mickey B.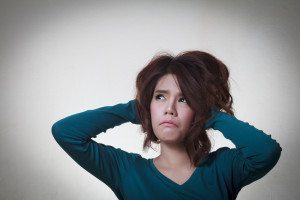 Recently a client called the salon in a panic. She needed to get her hair done before attending a family event. Instead of calling to make a color appointment, she tried to touch up her color at home and it went horribly wrong. We, as professionals, get these types of calls frequently and the solution usually isn't as easy as one may think. 
The magic of a fresh new hair color is hard to resist. Salon color techniques can give shine to dull locks and erase years of age by covering gray. Unfortunately, too many at-home hair wizards try to go it alone with boxed color kits.  
The Fix for a DIY (Do It Yourself) Disaster
"I wanted to lighten my hair, so this time I used a lighter color.  The root area turned lighter and brighter, but the middle and ends are still dark. It looks like a big color mistake. Now, what do I do?"
What happens when you feel pressured to do a miracle fix at home yourself?  Unfortunately, there are no guarantees and history is not in your favor. Much as I hate to say it, this approach to hair coloring can sometimes go horribly wrong.  When that happens, you will find yourself in need of hair color correction. If you used a permanent color or a bleach product, you should seek professional help from a color expert.
The only way to remove permanent hair color is to use a color removal product.  Professional stylists and colorists, who know how to use the formulas, have access to color removing products. These products often contain active chemicals or bleach and, when used by non-professionals, can cause severe hair breakage.
Message: Not everyone can do hair color. My advice about DIY home hair color? Don't do it!  Here's why:
The Salon Guarantee 
If your hair coloring was done by a professional colorist or stylist, contact them immediately to report your color problem. The best colorists know how to correct their mistakes, and will do so at no additional cost.
At Michael Anthony Salon DC, we always stand behind our work. If for some reason a client is not satisfied, as long as they contact us within a week of their original appointment, we will do what we can to make it right.
Remember, you only have one head of hair, so be good to it.
Enjoy your hair!
Mickey
---
Michael Anthony Salon DC  is considered by many to be the best in the entire DC metro region. We are passionate about doing hair and work with each and every client to create the look that is right for them. Led by Mickey – aka Michael Anthony – each of our stylists is a highly trained professional. Schedule an appointment and find out for yourself!