Posted by Mickey B.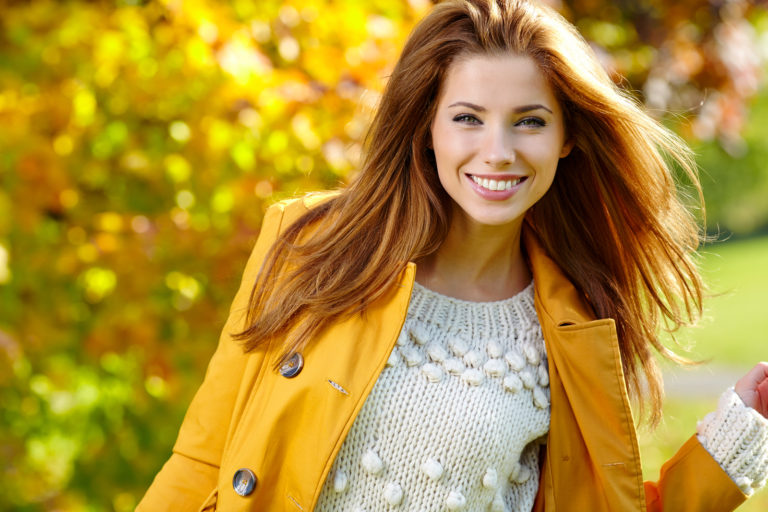 The chill in the air, bright colors of changing leaves, and Halloween can mean only one thing – fall is here. We slowly lose the sun to early darkness and the days get shorter. At this time of year, more than any other, it's the right time to "go into the light" with your hair. 
I can't think of a better way in the fall to reclaim a pop of summer than to add some brightness to your hair. Soft highlights or warm tones can be just the thing to combat the dreariness of shorter days.
Balayage highlights add a natural lightness to your hair that makes it look like you just spent a few weeks at the beach.
Have you heard of underlights? It's a technique for adding lightness to the interior of your hair. A discrete pop of lighter or brighter color shows through as your hair moves. Underlights can be a more subtle way to brighten your hair than an all over color change. And for those who want both a bold color statement AND an appropriate presentation for work, vibrant underlights can be hidden during the day.
For those who don't want the commitment to regular upkeep that is required with permanent hair color, there are alternatives:
Demi-permanent colors can add a warmer tone to your hair and are ideal for enhancing or changing the tone of your natural color.
Color depositing shampoos. Celeb Luxury just released a new line of color depositing shampoos named Gem Lites. This new technology will temporarily deposit color into the hair while shampooing. The more you shampoo, the more color. It is great to enhance your natural color or keep your professional hair color vibrant between visits.
Don't let the dull days of fall and winter get you down. Call your stylist instead. Ask about the easy ways to add lightness and warmth or bold color to your hair. It takes just one appointment to find some light in the new season.
Enjoy your hair!
Mickey
---
Michael Anthony Salon DC, a Michael Anthony Select Salon, is considered by many to be the best in the entire DC metro region. We are passionate about doing hair and work with each and every client to create the look that is right for them. Led by Mickey – aka Michael Anthony – each of our stylists is a highly trained professional. Schedule an appointment and find out for yourself!