Posted by Mickey B.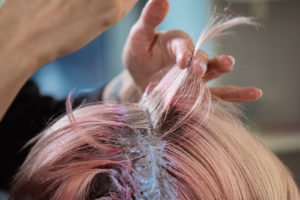 You were so excited to get that new hair color, but it failed to turn out exactly as you hoped. So, what do you do now? A lousy color experience can lead to unwanted splotches or brassiness. You may want to hide the mess under a hat, but hair color correction is a better solution.
When a hair color session goes haywire, you need to go into damage control quickly. Hair color correction can help restore your hair color so you can feel confident about the way you look. A "correction" can also be the solution if you want to make a drastic change and go from blonde to dark hair or vice versa.
What is Hair Color Correction?
Hair color correction is a way to restore your hair to a shade close to its natural color or another color of your choosing. It can also even out the tone of your hair for a more natural appearance. The two most common corrections involve making darker hair lighter and lighter hair darker. The process for hair color correction can take time. Some corrections can be done in a day, while others may take weeks to accomplish.
Communication with your stylist is crucial for achieving optimal results. It is essential to be completely honest about hair treatments and experiments up to the present. No shaming! This information will help avoid potential damage from chemicals as the stylist is trying to fix your hair. Your stylist can also recommend the best products to use while undergoing the color correction process to keep your hair as healthy as possible.
How Does Hair Color Correction Work?
For the hair color correction process to work, your hair may need to be lightened first to cancel out any uneven tones. Lightening may take several sessions over weeks to avoid unnecessary damage to your hair. If you are a platinum blonde, a filler may be applied to achieve darker colors best. Color correction may be difficult to accomplish with over-processed hair.
Fix Your Hair with Color Correction Today
Whether you had your hair colored at home or in a salon, if you are unhappy with the results, Michael Anthony Salon can help. Scheduling a consultation is highly recommended before booking an appointment for a color correction. An experienced hairstylist will walk you through the best options to achieve your desired hair results and restore your hair to a healthy condition.
Enjoy your hair,
Mickey
Schedule an appointment to repair your hair color today.