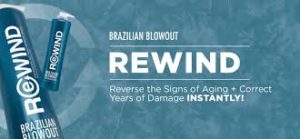 Your hair is your crowning glory, and like other parts of your body, it is vulnerable to the elements, harsh treatment, and even aging. Brazilian Blowout REWIND is the in-salon treatment you need to keep your hair looking full, fresh, and healthy. With its reparative and anti-aging formulation, Brazilian Blowout REWIND is a must for damaged hair due to chemicals, mechanical damage, and age ravages.
Beautiful Results Instantly
Brazilian Blowout REWIND utilizes smart technology to produce the beautiful results you have come to expect from Michael Anthony Salon. Isolated plant proteins and clinically proven actives target damaged areas within the hair shaft, restoring health to the hair from the inside out. Deep into the medulla, cortex, and cuticle, the formula works to rejuvenate your hair to its youthful appearance. After treatment, your hair is glossy, resilient, and beautifully manageable.
The Fountain of Youth for Aging Hair
Everyone knows the color of your hair will probably change as you grow older. In addition to losing melanin – the substance that adds color to your hair – the texture of your hair can change over time. It is not uncommon for super straight hair to begin to get wavy. It may get coarse in texture also. Years of coloring and chemical or heat treatments can also cause hair to become brittle. Aging hair loses its natural sheen and can become less manageable. Brazilian Blowout REWIND changes all that.
Brazilian Blowout REWIND corrects years of damage and essentially rebuilds aging and damaged hair. Embrace your greying hair as it becomes lustrous with the aid of hydrophobic ingredients that resurface the hair shaft. Wiry, unmanageable hair becomes smooth and pliant.  Shield your hair against humidity, hard water, and yellowing pollutants with Brazilian Blowout REWIND.
Younger clients, ask for Brazilian Blowout REWIND as a preventive measure against the ravages of aging hair. It maintains the youthful look and feel of your hair.
Schedule your appointment today with Michael Anthony Salon and ask about Brazilian Blowout REWIND to turn back the hands of time on your hair.