Posted by Mickey B.
These are challenging times.  Social distancing has made it hard to go about our daily lives and nearly everyone is missing one thing in common: their stylist or barber.  I want to take a moment to thank all of our wonderful clients who are waiting for us to return to work. Here are a few tips about hair color to help you get by while we all wait for the doors of salons and barbershops to reopen.
Haircolor
I know you've seen tons of tutorials on how to color your own hair at home. If you have already colored your hair and the result may not be so great, we will work with it. Promise.  If you haven't, this is another great way to practice social distancing. Stay 6' or more from that box of color at the store!
The color we mix is formulated specifically for your hair based on a ton of scenarios. Your starting base color, the tone you are looking for, the tone we need to use to cancel out any unwanted tones. There is also the strength of the color we have to mix that determines how light or dark, and the amount of gray we are covering.  Sure we could mix the color and deliver it to you but once color hits the air it starts to oxidize and the color will weaken and not give the results intended. Not to mention the safety and liability for us to do that.
"…another great way to practice social distancing. Stay 6' or more from that box of color at the store! " – Mickey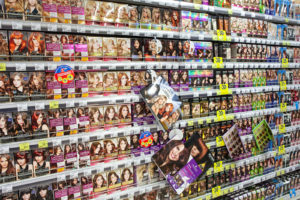 What I mean is your color is uniquely yours and no one else's.  The box color at the store is marketed as a one size fits all. The truth is one size fits very few.  The time spent fixing a home color disaster can be long and it can be costly.  Not to mention if you spill or drip color on your countertops or floors (or furniture, or pet, or partner…) it may not come out and will be even more costly to fix.
Temporary Touch-ups
You can use root touch up sprays, powders or sticks to help you get through this time.  You could also use a matte eyeshadow to camouflage your grays.  Just dust a little eyeshadow on your gray bits and then set it with a light-hold hairspray. This will help the eyeshadow stick since it not formulated to adhere to hair.
Email us at the salon and we will do our best to get you a temporary touch up spray or powder and deliver within a reasonable distance.
I hope this helps you.
Watch for more blog posts – coming soon – with additional tips and tricks to help you get through this extended "stay-at-home" time without your regular salon team to help!
On behalf of all stylists nationwide I just want to say we love you, we miss you, and thank you for waiting for us.
Stay home and stay safe,
Mickey
Follow us on Facebook, too. We have a great following and try to keep in touch as well as offer encouragement for getting through these days with all of our wits intact!