Posted by Mickey B.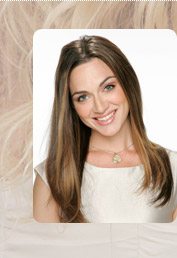 When spring arrives, hairdressers are often among the first to know. It's the season of the fresh new look when hairstyle changes are in high demand. Trendy haircuts are popular, but it is also possible to ADD length and volume to your hair.  Michael Anthony Salon stylist Mickey Bolek shares the secret. 
Believe it or not, it is possible to get long thick hair and change the color in just two salon visits. How? With hair extensions and a talented stylist. The goal in applying hair extensions is to have the most natural look you can achieve. That requires the best type of extension and a stylist who has both technical and creative expertise. Salon stylists are specially trained and certified in hair extension application and technology.
Hair extensions are lengths of hair that are closely attached to a person's scalp. The best quality extensions are made from real human hair that closely match your own natural hair. Here are some tips that will help you know what to expect:
 Consultation.  Extensions take a consultation visit first, then an application visit – and time in between to get the hair ordered. During the consultation your stylist will look at your hair's natural texture in order to get a close match with the extensions.
Application. Your custom-ordered hair extensions will be applied and styled in a second visit. The two hair types  are expertly blended so that the extensions are undetectable. Your hair can then be styled in a way that complements your face shape and heightens the effectiveness of your hair's texture. Hair color can be applied to the extensions at this time or at a later date.
 Maintenance. A professional stylist will take the time to give you the necessary information on how to care for your extensions at home at the time of your initial installation. In general, you should care for your extension hair just like your natural hair. And be gentle. Proper care will ensure that your extensions are long-lasting and remain in beautiful condition. Expect a maintenance visit in four to six weeks to allow your stylist to replace any protein bonds that need a bit of cleaning up.
Ready to make the change with extensions? It's easy. Start by scheduling your consultation appointment to come in and see us. We love the chance to create fresh new looks for spring.
Enjoy your hair!
Mickey
Michael Anthony Salon proudly offers hair extensions by DreamCatchers, featuring its innovative and unique Micro-cylinder technology. Mickey and several of our stylists are trained and certified to the highest industry standards, in applying this leading brand. Call to learn more, or book a consultation online today.