Posted by Mickey B.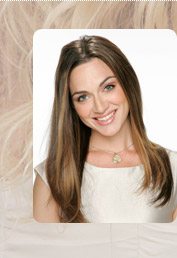 Do you dream of long, thick hair that's full of body and shine? Or do you just wish you could add some volume and bounce to your thinning but shorter hairdo? Or how about a bold pop of color without the chemical treatment?
Dreams really do come true with the help of your hairdresser! Okay, so we don't exactly have magic wands, but we do have a few tricks up our sleeves and tools of the trade that can give you longer, fuller locks, or that bit of color spice you dream about. I'm talking about hair extensions. They may be just the answer for you!
Viva la Difference!
Not all hair extensions are created equal. Here are some tips about what to look for and what to avoid:
Quality
Look for … human hair that closely matches your own in texture and color, naturally
Avoid … hair that has been chemically processed and treated – repeatedly – to achieve a certain color match or texture; synthetic hair.
Comfort & Safety
Look for … an application technology (that is, how the extensions attach to your hair) that is mess-free, non-damaging, and so comfortable and inconspicuous that you all but forget that you have hair extensions.
Avoid … glues and waxes that are messy, uncomfortable, may damage your own hair, and can be unsightly.
Application Process
Look for … a process that starts with a consultation followed up with another visit of up to 4 hours to actually apply your custom-ordered hair extensions.
Avoid … any process that isn't preceded by a professional consultation, or that takes more than 4 hours to complete
Maintenance
Look for … a professional stylist that will go over care instructions with you during the initial application. Proper care will ensure that your extensions are long-lasting and remain in beautiful condition.
Avoid … anyone that hurries through the process without answering your questions or giving you sound advice about care at home.
Look for … a maintenance visit 4-6 weeks after initial application
Avoid … anyone that suggests more frequent maintenance appointments, or none at all
Removal and Replacement
Look for … hair extension technology that allows for removal and re-use of the same extensions. This is not only more cost-effective, it is "greener."
Avoid … any hair extension brand or application process that requires you to purchase and apply all new extensions every 3-6 months, when you want to continue the same look.
Look for … full replacement by your trained and certified stylist, every 3-4 months on average. Length of time may depend on the length of your hair, among other things that your stylist can explain.
Stylist Training and Certification
Look for … a Salon with stylists specially trained and certified in hair extension application and technology with top-quality brands that meet all of the above criteria.
Avoid … sacrificing quality and professional reliability for cost, scheduling convenience, or for the sake of acting on an impulse.
Look for … a stylist who listens to hear what you want, helps you understand what to expect and how to care for your extensions, and strives to give you the results of which you dream!
Got questions? Come and see us. We'd love to know your hair dreams!
Enjoy your hair!
Mickey
Michael Anthony Salon proudly offers hair extensions by DreamCatchers, featuring its innovative and unique Micro-cylinder technology. Mickey and several of our stylists are trained and certified to the highest industry standards, in applying this leading brand. Call to learn more, or book a consultation online today.