Posted by Mickey B.
Spice up your look this holiday season to create bold sophistication or fun playfulness. By adding fringe to a long, luxurious style, we'll help you recreate your look and give you even more options when it comes to styling.
High Fashion Fringe
If you're daring and have a fearless spirit, take the plunge and go all out. A full fringe, with slightly thick bangs, that goes all the way across the forehead can recreate a high-fashion look fit for the runways of Paris. Full fringes take some getting used to, especially if you're not normally a fringe type of girl, but if you're bored with your style this is a way to create change while still keeping your basic look.
Take a hint from style icon and model Heidi Klum, who rocks her full fringe and sexy blonde locks to perfection. With dimensional blonde color and slight face framing, Klum's style is definitely head-turning.
Romantic Side-Swept Bangs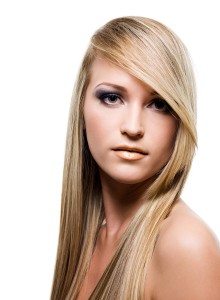 Side fringe, also known as "side-swept bangs," lends a hint of soft romance to any style in the book. Add a side-swept fringe to complement your long locks or allow side-swept fringe to add style and design to a short A-line bob.
If you're skittish when it comes to bangs, request a long variation to start. This gives you an idea of whether you like it. And on days that you feel like going sans bangs, you can brush them to the side and voila – camouflage bangs!
Sweet, Short Bangs
Want even more bang from your bangs?
Take a few hints from Hollywood divas and other vintage starlets who have graced red carpets across the decades.
Short bangs cut an inch above your eyebrows, (while they may bring to mind that haircut Mom gave you in second grade) are actually a classic look associated with sexy "pinup" girls. This style of fringe typically goes straight across the forehead, but can also be done with a new riff on a classic look.
You might even dress yours up for New Years partying with a sassy matte red lipstick and false lashes to bring out the starlet in you.
Enjoy your hair!
Mickey