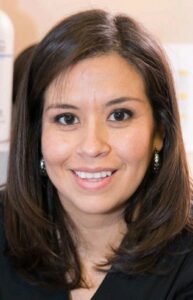 Adriana Mendoza joined the Michael Anthony Salon professional styling team in July of 2022. Long-time clients know Adriana as one of the most outstanding shampoo artists ever. Her dedication to the art of cosmetology has been keen over the years, and we've cheered her on through her continuing education every step of the way. In addition to her formal training, Adriana learned a great deal from her mentors – Mickey, Da, Collin, Kendra, and Gerald.
Please join us in welcoming Adriana to the styling team!
"Nothing has ever caught my absolute attention like cosmetology does. It's never work if you love it, right?" – Adriana
Brazilian Blowout is one of Adriana's favorite services. Her clients have been very happy with the results, and she reports, "I [too] have curly and frizzy hair, and those products make a huge difference for me!"
"… I let my hair go way too long before getting it cut because of the new surge of COVID. So, Adriana had a big job of giving it some style and she was great! I highly recommend the shop and Adriana. Already booked my next appointment." – CK
If you LIKE Adriana, too, or like what you see here, use the social media SHARE buttons on this page, and tell your friends!