Posted by Mickey B.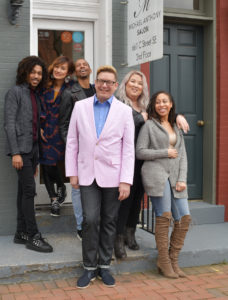 We are so fortunate to have some of the best stylists in DC working here at Michael Anthony Salon. Whether it is color, a cut, conditioning or one of our other services, we have the expertise to make your dream hairstyle. Not only is our expertise of great importance, so are the relationships we build with our clients. At Michael Anthony Salon, we value teamwork. As trite as it may sound, teamwork does make the dream work! So, what happens when your favorite stylist is unavailable?
But No One Else Can Do My Hair as Well as . . .
Our clients have access to a solid team of stylists they can depend on to get it right. When you walk out of our door, you expect to look your best. The professionals here are among the best in the field and are dedicated to giving every single client the look they desire. One of the wonderful qualities of Michael Anthony Salon is that no matter who is on your team, you are going to look great when you leave. 
We understand how clients can get attached to one or two individuals. After all, a good salon often is more than just a place where you get your hair done. It becomes a place of shared confidences, a refuge of sorts, a place where you get to relax, feel safe and be comfortable. As stylists, we get attached to our clients as well. At the same time, we are also committed to making sure that each person receives the highest quality care. You can trust that if your usual stylist is not available, you will still receive excellent care and leave the salon with a stellar look.
But I Don't Want to Hurt My Stylist's Feelings
Oh, we get that; we truly understand. But here's the thing — we are all in this together. At Michael Anthony Salon, we are like a family working together for a common goal — to make sure you look and feel amazing when you leave. Loyalty is a valuable trait, which is to be respected and appreciated. As a salon, we are loyal to our clients and resolute in ensuring that everyone feels good about being here and about their experience with us.
Things happen. People get sick, have family emergencies, and sometimes things get so backed up that we have to make last-minute changes. This is life, and as inconvenient as it is, it is still okay, because things happen! So, if you need to change a stylist for a minute, do not worry about it. It is okay.
But We Don't Really Need a Group Decision
In most situations, your primary stylist has you covered. Every now and then, there comes a time when he or she may want another opinion regarding a style or color change. The professional perspective of other stylists sometimes aids in making the best decision. After all, our job is to make sure you look phenomenal by the time you leave our care.
At the end of the day, we want to make sure you have the best experience possible when you walk through our doors. Sometimes that may mean changing your stylist, so it's a good thing to have more than one stylist on your team. 
Enjoy your hair!
Mickey